Why did you decide to volunteer with Leave UR Mark in India?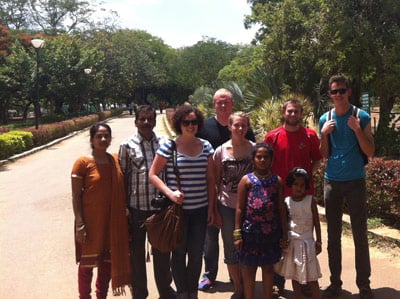 Tim: I was on a blog that was talking about business internships abroad and I immediately knew that's what I wanted to do. I didn't know it was going to be with Leave UR Mark right away but I knew that an internship in the Midwest just wasn't going to cut it. I needed to get out and experience another country. That's when I found a link to Leave UR Mark & after talking with their friendly representative I was sold on India. Not right away but gradually after many questions were answered I knew it was right for me.
What made this experience unique and special?
Tim: The interns. If I wasn't able to hang out with others after work it would have been a different experience. Our group was so eclectic and diverse yet we never really ran into any problems with each other. Imagine picking twenty random, college-age students from different countries and throwing them in one apartment together. It sounds daunting but I think it was the greatest thing about the trip.
How has this experience impacted your future?
Tim: Personally, I have a deeper appreciation for India and the Indian people. They were so friendly and always ready to help whenever there was a problem. I never could imagine myself in this country. Usually I was always prepared for everything in life but when I was on the plane to India I really had no idea what to expect. I think the fact that I had no expectations really helped me respond to the country positively right away. If you go into this internship with an attitude or an arrogance you will not be able to make as much of an impact on those around you. Go to India with no expectations, and you will be pleasantly surprised.
Professionally, I learned a ton about working with others in an office and having to communicate with those around me. Generally I'm not very good at voicing my opinion when I am uncomfortable or confused but through this internship I was really pushed out of my comfort zone and was forced to do things I had never done before. This made the experience not only fun but also rewarding.
Highlights: The highlight with the company I was interning with was being able to go to their business conference in Goa, India – all expenses paid. It was a great experience, I got so much experience with my field of study as well as being constantly challenged to grow & learn more about business & marketing. While I was taking video of the event different executives would come up to me and greet me and tell me about themselves which was a great networking opportunity with a lot of high profile clients.
The highlight of my overall experience in India was probably the new adventures we had on the weekends and during the week. I went to Mysore, India a nice town with large Hindu temples and a lot of history. I found a Christian church I went to on Sundays that was so different from a church in the states- the people are so friendly and open in India, and this was mirrored throughout my time here. I think the interns were the real highlight of the trip though. We were all so incredibly different but we got along amazingly and I made some great friends.
Morning: Woke up around 7 AM with a nagging back-ache and clammy cold-sweat the first few days I was there but generally that went away the longer I was there. I usually went down to the swimming pool or weight room for a quick workout before work. Breakfast usually consisted of a mixture of rice and a vegetable – made in different ways. Saturday was the best breakfast day for most interns because we had eggs & toast! I usually waited a bit for my lunch to be made while reading the paper and then left for work around 9 am to get bombarded by rickshaw drivers ready to swindle me out of my hard earned rupees which I began to handle with ease after being there for a while. The trip to work usually took about 30-45 minutes so I would put my headphones in & relax while I enjoyed the sites of the city.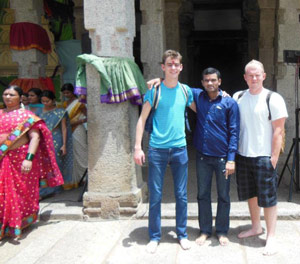 Afternoon: Afternoons usually consisted of finishing up work & driving back to the apartment. I worked at Saltmarch Media until 6 PM and then after the drive I didn't usually get back until about 7 PM.
Evening: Every evening was different and exciting unless work wiped us out. Our favorite spot was a rooftop bar and restaurant that was within walking distance of the apartment. All of us interns would congregate around drinks or food and talk about our days, where we were from, our families, basically everything. Some days we would go around the city and try different joints we heard about. Usually they were great but we had a few snafus with a couple places- which is expected with any adventure. Generally the evenings were the best time to hang out with the others and enjoy India.