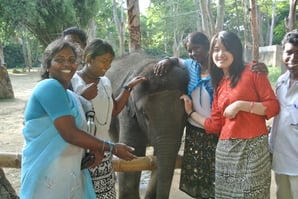 Highlights: My time interning in Bangalore was absolutely amazing. I was outside every weekend and I enjoyed every moment in India. I traveled to a lot of beautiful spots with friends I met there: Mysore, Lalbagh Botanical Garden, temples, zoos, and many more! I especially enjoyed being blessed by an elephant - the elephant touched my hair with its trunk! I loved learning about Indian culture. I listened to mysterious stories about Hindu Gods. I also like Indian mehndi (henna). My friend did mehndi for me; she was very skillful in designing and drawing beautiful pictures in my hands. I had never seen Indian mehndi before, and I loved it so much!
Since I wasn't as confident about my English when I taught at the YMCA, I didn't do a lot structured teaching. I instead encouraged them to talk and connect with me. As for the kids, they were so cute. I enjoyed playing with them. While we were playing, they would put sands or leaves in my hands, kiss my cheek tenderly and whisper secrets to me. I was so happy and excited with kids every day; they made my heart soft and my mind peaceful.
Morning: I got up at 8:00 in the morning. I left for work at 8:45 or 9:00. I took the bus to my workplace, YWCA, and it took me one hour to get there. Sometimes I went to work by auto, it was fast but a little bit more expensive: about 150 to 200 rupees. During the time I spent in India, I spent one week with young women and three weeks with children. When I was working at a center for young women, I taught English from 10:00 AM to 12:30 AM. We talked and connected, and sometimes we played games. When I was working with children, I distributed milk and food to them every morning. After they finished eating, I would play different games and activities with them.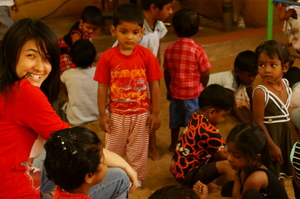 Afternoon: When I was working with the center for women, I taught another class English from 2:30 PM to 3:45 PM. Similar to my morning class, we talked a lot about many different topics. I often chose topics like their ambitions, health problems etc. and allowed them to feel free to share their opinions. They always gave me wonderful ideas. I wanted them to practice their English and stimulate their creative thinking through discussing the topics. Sometimes they asked me to introduce them to some of my Chinese culture, and sometimes they would share their culture by singing Indian songs and dancing for me.
At the children's center, I watched the children while they took a nap after they finished lunch. When they woke up, I helped them wash their faces and hands, and then distributed milk or porridge to them. At about 4:00 PM, some parents would come by and take their children home. I helped the children put their shoes back on and said goodbye to them.
Evening: I would get back to my apartment at about 6:30 PM. I often watched TV, talked with my roommates, and surfed the Internet. I had dinner at 8:00 PM. I didn't spend a lot of time in the apartment because sometimes my Indian friends and my students at the YWCA, invited me to their houses for dinner. I tried many delicious Indian foods and a lot of local snacks: including Pani Puri and Papdi Chaat. I also tried to learn how to eat with my hands while I was eating with my friends. My stomach was very full every night when I stayed with my friends. They always prepared so much delicious food for me and I couldn't reject their hospitality. They also wanted me to wear Indian clothes when we had dinner. So I tried on some Indian clothes like salwar and sari. They looked very nice, and it was well worth trying them on.