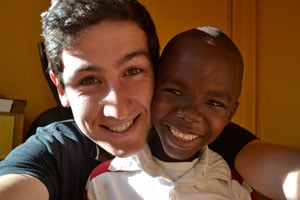 Why did you decide to volunteer with African Impact in South Africa?
Ben: I found African Impact through another site – Amanzi Travel (definitely worth checking them out). The reviews of African impact's projects were all really good though, and it just looked like such a worthwhile experience.
Describe your day to day activities as a volunteer.
Ben: Every morning we'd start with cereal, fruit or toast as we got ready to get on the bus for the morning project. Then we'd all get on the bus and set off on a beautiful drive along the coast to our different pre-schools for the morning – my school was luckily last stop of the trip so every morning I'd get at least 20 minutes of taking in the ocean views before a fun morning with the kids. The kids always come running to the gate to greet the volunteers and after a bit of playing, it's time for an English lesson and a snack. After a bit more fun, you help with washing the hands and lunch and then head off back on the bus which takes you back to the volunteer house for lunch.
After an always-tasty lunch and an hour or so break, we'd be off to the afternoon community project. These were really, really rewarding. One community project is a home for HIV infected and affect children, and African Impact are the only volunteer organisation allowed in to the home, so it's a great privilege to talk to these amazing kids and help them with their English and maths. Always a good laugh too, they're witty and will always keep you on your toes! Another community project is a safe house for a abused kids and parents, again a privilege to be involved with – such an eye-opener.
The food for dinner was top-notch. Always hit the spot after a long day. After this the volunteers will decide how best to use the evening. You can prepare extra activities for the next day or explore. Beaches – everywhere. Mountains – everywhere. Loads of nice evening spots for meals or drinks... there really is a lot to keep you occupied. I personally would go for a run up the hill to a beach view probably 3 nights a week, followed by a chilled evening. Also went to the cinema, watched a local talent show and went swimming in a lake. Most evenings there will be someone putting a film on or going over the road to get some food.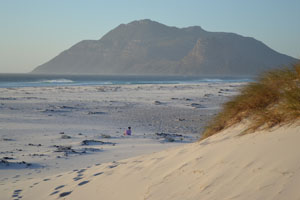 The highlight was probably skydiving. That was just an incredible experience, and Cape Town is one of the top 3 places in the world to skydive apparently. So insanely good. In terms of the actual volunteering, though... The highlight had to be the way you interact with and learn from everyone in Cape Town. The project staff, the pre-school teachers and the pre-school kids – so many life lessons to learn from them. Some inspirational adults and some amazingly happy and grateful kids – it's just awesome to be a part of.
What made this experience unique and special?
Ben: So much to say. Cape Town is just an incredible place. So much life, colour, scenery, activity and contrast. Learning about their culture is a great experience – getting to know the kids there, the schools and the way of life, is really interesting. The sites – Table Mountain, Cape Point, Robben Island, those are all worthy of the hype too. The project staff were really nice from day one, and the volunteer house is such a great base. The food and the service is top-quality. The friends I made and the good times I had won't be forgotten. I got help out in the office, putting my photography and graphic design abilities to good use too – really enjoyed that. The whole volunteering experience helps you to discover a new world and grow as a person, and those are things you just can't learn from a text book.
How has this experience impacted your future?
Ben: The experience has helped re-enforce life lessons such as... be grateful for what you have, work hard and to the best of your ability (EARN your time to chill), be tolerant and understanding of other people's problems, and loads more. It has done wonders for my CV and helped me to realize what I want to do career-wise, long-term. Character building, for sure... When it comes to leaving home, taking risks and pushing the boundaries of my comfort zone... I'm not naturally at ease. It took a lot of will power to book this project but the second I arrived in Cape Town I knew it was the place to be. As one of my favourite songs puts it: 'If you never leave home, never let go, you'll never make it to the great unknown'. Getting out there and doing something like this can set you up for a life of exploring and experiencing. Do it.