Why did you decide to study abroad with API in Rome, Italy?
Nathan: I have always wanted to travel, so when I learned about the opportunity to study abroad, I was dead-set on doing so. I chose to study abroad with API because the program offered everything that I was looking for. I didn't have much time left in my course studies to take a lot of humanities or extra-curriculars, so I scoured programs to find classes that would work for my program.
I had no experience speaking Italian and unfortunately didn't have the time to learn. API's program offered me the opportunity to study abroad at a university that spoke English and offered the classes I really needed-thus helping me justify studying abroad. In addition, API's program seemed to offer the best deal. I couldn't find another place that could beat out API for what I was looking for. The choice was simple-Study Abroad with API.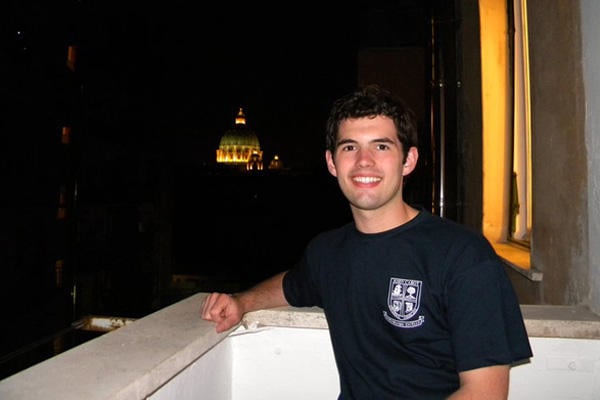 What made your study abroad experience unique and special?
Nathan: From the moment that I submitted my application and was accepted, I was greeted with the BEST customer service. While preparing to go abroad, the API headquarters was EXTREMELY helpful and patient with all my questions. I don't think that there wasn't anything that was forgotten. API was thorough in their methods for preparing me for my experience. Once I got there, API was there. They picked us up and we never had to worry. The Orientation was a great experience that I remember to this day. I didn't miss out on a thing. Throughout my experience API was so professional and always there.
My study abroad experience was unique and special in so many other ways. My apartment was a short 3 min walk from the Vatican. I had an awesome view of St. Peters out of my back balcony-talk about a view. Rome was an amazing place. I can honestly say that I left a piece of my heart there. Everything about the city is beautiful. If someone offered me a ticket there, I would be there without hesitation. If anyone ever wonders if they should go to Rome, they should just go because it is truly beyond words. Nothing disappoints in Rome.
How has this experience impacted your future?
Nathan: My study abroad experience has affected me in so many ways. I think differently about the world now. There is a whole other world out there and I left a piece of me there. Professionally, I can only imagine what doors will be opened, however my love of travel has been ignited by my study abroad experience. I have every desire to see more of the world and now I also have a little know-how of my own to be able to do so.
Academically, I was able to take challenging classes that have helped in my professional development. I will never forget this experience. Even though it's been a little over a year since I've been to Italy and I can still remember it like yesterday. Honestly, I would ask how many other experiences have you had that you remember so vividly. For me studying abroad was life changing.