Why did you decide to study abroad with API in Buenos Aires?
Danielle: Ever since I was younger and saw the movie Evita Peron, I knew that I wanted to go to Buenos Aires, Argentina. There was something about the country that appealed to me. I loved the architecture, the tango, and the rich history. As I began studying Spanish, I had the opportunity to learn more and more about the culture and my love only continued to grow.
I wanted to experience the art that was on every street corner, see the markets in the parks, shop on Avenida 9, and stand in front of the Casa Rosada. When I got to college and found out as a Spanish major I HAD to study abroad, there was only one place that I wanted to go, Buenos Aires, Argentina.
My university, Ohio U, didn't have a program that went there directly, so I knew I would have to use an affiliate. After a bit of searching, I stumbled across API. I considered a few others, but API seemed to have a very thorough program for a lot less money than some of the others. I had narrowed it down between ISA and API, but API was a little cheaper. I also liked the promptness of the staff, whenever I had any questions, I would receive an e-mail back within 24 hours.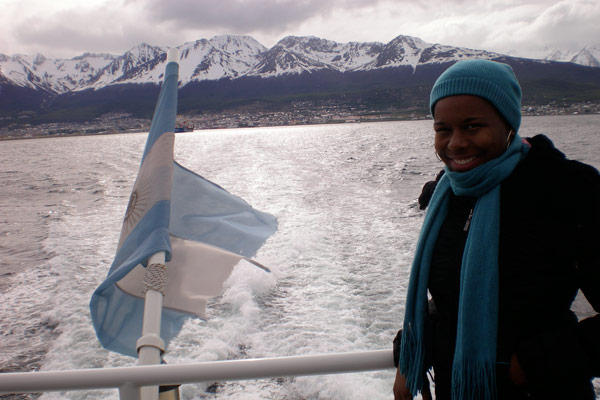 What made your study abroad experience unique and special?
Danielle: Everything makes study abroad special. No matter what program you choose, you get out of it what you put in. I liked that the staff was so friendly and warm. The onsite staff treats you like family. The director has dinners at her house, she offers tutoring, and gives you her personal phone number if you need anything. You will take tours with the same tour guide again and again, so you are able to build a relationship with her (Gaby Masson). Also, they are both highly educated and have a lot of connections in the city, so they can help you with almost anything.
We had a lot of group activities such as dance lessons, cooking lessons, and cultural classes. We also went on excursions to a ranch, Uruguay, and a swamp (yes, an actual swamp!), and let me not forget going to the tip of the world! Ushuaia!! We were practically in Antarctica!!! Everywhere we went, our directors were with us making the experience run as smoothly as possible.
When we were in the city, the program allowed us a lot of time to do as we pleased, and explore the city. They let us do excursions too, as long as we provided the director with our travel information.
How has this experience impacted your future?
Danielle: I don't know if you can ever travel without it impacting your future. If nothing else, you look at the world differently with more open eyes. My Spanish improved by leaps and bounds when I went abroad. It's certainly a great resume booster. People will assume that you are so much more "well rounded" than some of the other candidates, so prove them right!
Also, it's just good overall. Life is not that short, if we start living it a little earlier and studying abroad helps ya do that. I felt a confidence in Argentina, that I had never experienced before. I was definitely taken out of my comfort zone, but I made it work for me. I won't say that I loved EVERY minute, I mean there are some tough moments that come with being sooooo far away from home, but all in all it was a great experience and I wouldn't trade it for anything!
I learned to love life a little more, appreciate what I have and what the world can offer, and open my eyes to a new culture can teach me. GO GO GO! is what I say. It'll be worth every penny!