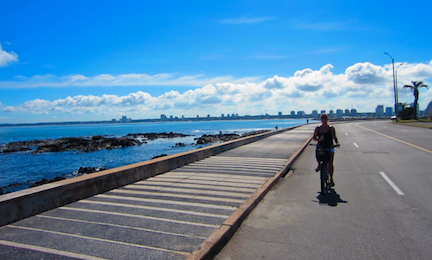 Why did you decide to study abroad with API?
Lauren: In comparison to competitor programs, API surpassed all others in regard to organization, enthusiasm, and price. Having completed a study abroad program with API, I can confidently say that I made the right choice. The entire administrative process went very smoothly, and there was always a member of the API team available in case I had any questions or concerns regarding the registration process. Once I arrived in Buenos Aires, the excellent customer service continued. Our resident supervisor, Carmen, was absolutely wonderful. She maintained a consistent interest in our wellbeing and did her best to make sure that our experience abroad was living up to its fullest potential.
What made this study abroad experience unique and special?
Lauren: Among all of the wonderful things that Buenos Aires has to offer, I believe that the relationship I developed with my host family and porteño friends was the best part of my time spent in Buenos Aires, and the time that I consider to be the most special. Becoming a part of a social circle that varies so drastically from what I am used to really pushed me to open up and get to know a lot of new people, as well as improved my language skills. I developed so many relationships while abroad, many of which are still strong today. I am actually returning to Buenos Aires this summer for the wedding of my eldest host sister!
How has this experience impacted your future?
Lauren: This experience has completely expanded my flexibility and eagerness to try new things. I am anxious to travel to new places and learn about new cultures. I will be attending medical school in the fall and as a result of my wonderful experience learning abroad as an undergraduate, I have decided to incorporate international travel into my graduate coursework as well. The study abroad experience has definitely transformed me into a true adventurer!