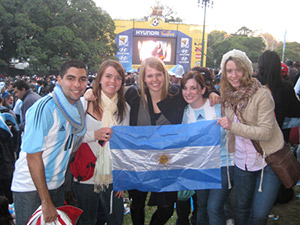 What attracted you to Argentina?
Makena: I honestly chose Buenos Aires on a bit of a whim. I had heard great things about the city and I just had a hunch that I would love it. I was attracted to the mix of European and Latin cultures, the allure of a large cosmopolitan city, the seductive and mysterious tango, and the excitement of going somewhere where no one else I knew had studied before. Now that I am here I am experiencing all of that and more. Once you arrive in Argentina you quickly realize that although Buenos Aires has so much to offer, the country has countless other treasures to discover as well. I will be taking my first trip (to Iguazu Falls) this weekend, with many more to come!
How did you find this program?
Makena: I went through Academic Programs International. My school only offered two options and I was actually able to contact someone from my school who had gone to Buenos Aires with each of them. API offered a much smaller program and coming from a small school in the States, I was really looking to continue with that personal feel.
Although every program has something to offer (I will actually be writing a blog post about the various programs soon) I couldn't be happier with API. I think the biggest advantages to the program are that you get your own house family (no other students share the same housing); you live in or near Palermo, which is the center of downtown Buenos Aires; and sense of family that comes from being in a smaller program.
What will study abroad help you accomplish that would have been difficult back at your home university?
Makena: I could give a million reasons why but to put it simply: everyone I've ever met who has studied abroad says it is one of the best experiences of their life and everyone who hasn't says it is one of their biggest regrets!
There are many things both big and small that I hope to accomplish here but I guess the main things that I feel would have been difficult at my home university are: to immerse myself fully in another culture and in doing so, become fluent in Spanish; to learn the Argentine tango; to smile more (new experiences and surroundings give you so much more to smile about!); to travel as much as I possibly can; and to make life-long friends in other countries.
How do you see this experience impacting your future goals?
Makena: I see it totally shifting my perspective on life and what is or isn't possible. After a few years of staying more or less in one place I feel like I really lost that sense of "anything is possible" and after just 2 weeks here I can already feel it seeping back into my bones. A week ago I decided that I am going to find a way to spend a year traveling after I graduate, even though I have no clue how I will make it happen. If I decided that in a week I can't imagine what my goals will be 5 months from now!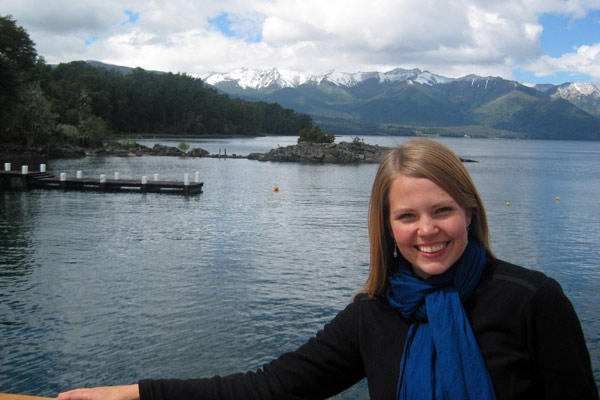 Was your family supportive of your desire to study abroad?
Makena: Absolutely. My family has always been my biggest cheerleaders. When I get discouraged, they are the ones to give me the big hug and firm push that I need to get back on track again. They continuously inspire me and remind me to never EVER let go of my dreams.
Can you share three travel tips for visitors to Buenos Aires?
Makena: Eat: choripan; empanadas; alfajores; ice cream and anything beef. Drink: maté; Malbec wine from Mendoza, Argentina; and café con leche with medialunas (sweet croissants).
Sightseeing: Spend a Saturday or Sunday afternoon in Plaza Francia. There is the most amazing artisan's market there on the weekends and when the weather is nice there are often musicians playing and people drinking maté and relaxing on the lawn. This is my favorite thing to do so far on lazy weekend afternoons. Also walk a LOT and don't be afraid to get "lost."
Staying safe while traveling: Carry a purse slung over your body to deter thiefs; don't wear flashy jewelry or carry tons of money around; stay in the better neighborhoods and only walk on avenues after dark if you can help it; read up on common scams and avoid them; and stick to "radio taxis." Most of all just use common sense. Buenos Aires is a big city and you have to play by the "rules" but once you learn these you will feel very safe.
Have you experienced any feelings of culture shock?
Makena: I have been pretty lucky in that I haven't experienced any drastic feelings of culture shock (yet). I think the closest I have gotten is feelings of tiredness or exhaustion after walking around all day, talking mostly in Spanish, etc. There have definitely been a lot of "wow" moments, but the constant Public Displays of Affection in public are probably the most constant reminder that this is not just another big city in the U.S. This has actually come to be one of my favorite things about the city – I find the passion of the Porteño people endearing. My best tip for adjusting to living abroad is to be as open to every experience (both good and bad) as you can. Try to treat every new experience as an enriching one, or at the very least, as something to learn and grow from.
How did your blog, Study Abroad Byrant - Buenos Aires, come about and who is your intended audience?
Makena: I originally came up with the idea for my blog as part of my application for the Gilman Scholarship for study abroad, but I quickly came to realize that encouraging other students to study abroad is something I really feel strongly about. So without knowing whether or not I would receive the scholarship, I started the blog and recruited and trained 5 other students from my school (who will be studying in 5 different countries) to blog about their experiences studying abroad this fall as well. By the time I discovered I had been a scholarship recipient, the blog was already well on its way to where it is today and I haven't looked back!
So far my writing has really been geared towards college students looking to study abroad in Buenos Aires, but I foresee this shifting to more general articles in the months to come. I would love for my blog to be a resource for young people traveling to Argentina for any reason, not just for study abroad. I connect with my audience because I understand where they are coming from. I have been and continue to be one of them. Because I am so passionate about sharing my love of travel in this way, I often find myself jotting down ideas for blog posts on bits of paper throughout my day, or questions I think I would want answered if I were going to travel to Buenos Aires. I also get ideas from people who contact me asking for advice.
Any last words?
Makena: If you are thinking about studying abroad, DO IT! Every student should have this experience, even if you never plan to go abroad again after this.
Also, if you know you want to study abroad but aren't sure if you can afford it, APPLY ANYWAY; especially if you are going to Argentina or any other country with a great exchange rate. I pay $1 USD for an empanada for lunch every day. After 5 months of that I will probably have made up for the cost of my ticket here in food savings! There is always a way.