Why did you study abroad with GlobaLinks at University of Newcastle?
Jillian: Ever since I was little, I knew that I wanted to go to Australia, whether for vacation, to live there, I just knew that I wanted to see it. When I came to Quinnipiac and found out about their study abroad program, I knew that I was going to Australia with Australearn. I looked through all the brochures and pamphlets in the office with all the information about the schools in Australia. First, I looked at those that offered courses in Public Relations, which is my major. Then I looked at the size of the school. I picked the University of Newcastle, talked it over with my parents, and never looked back.
What made your study abroad experience unique and special?
Jillian: This study abroad experience was everything I could have ever hoped for. I was given the opportunity of a lifetime, to make new friends in various places, to grow and learn and become a new person. I was able to experience a country that had a different culture from our own. Yes, the speak English, but that is about where the similarities end. I was able to go shark cage diving, something that I would have never thought possible.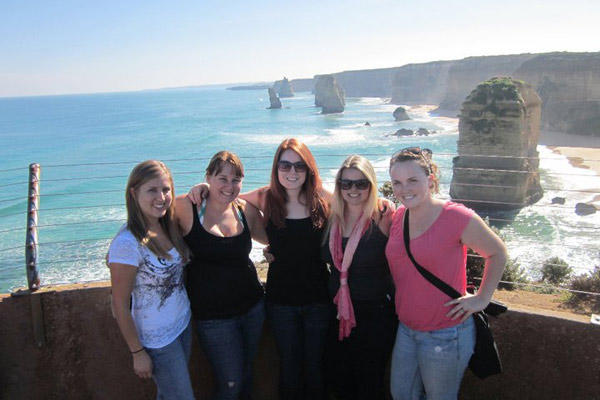 How has this experience impacted your future?
Jillian: Personally, I have grown. I survived 5 months on my own, and changed with each new experience. Now, when I feel like there is something that is going to be challenging, I look back on my experience in Australia, say to myself "I accomplished so much just by taking the flight by myself. I can do this." It might sound silly but it works.
Professionally, I can now show employers that at the age of 19, I was able to sustain a life for 5 months without the help of my parents. It shows how mature I am, how I am not afraid to take risks, that I am resourceful, independent, and intelligent person I am. Academically, Australia's coursework seemed harder than here in America. I worked relentlessly to keep my grades up, to assure my parents that they didn't allow me to go on this amazing journey without seeing results. I came home with all A's and B's, and one C in guitar, which just made me know that playing an instrument is not my forte.
Going abroad forced me to be more outgoing than I usually am. It pushed me outside comfort zones, which seemed scary at first, but was more than rewarding in the end. My friend once told me that she admired me because I wasn't afraid to jump in a volleyball game with people I didn't know. She told me that I was brave, which is funny because back home I would never do that. Now, I know that I can and I don't think words can express how grateful I am for my time abroad.