Why choose ISA?
Emma: I chose to study abroad with ISA because I respected the longtime foundation of the organization, the program met my academic needs as well as my adventurous desires, and the ISA staff in Austin, TX and abroad are incredibly personable and helpful.
What made this study abroad experience unique and special?
Emma: I think studying in a developing part of the world with extreme cultural differences from my life growing up in Texas made this study abroad experience very unique and special for me. However, the ISA staff in Meknes presented me with opportunities to really personalize my experience through connections with the Meknes volleyball team, as well as an opportunity to volunteer and serve. The ISA staff were also incredibly helpful throughout the semester, and I was able to develop great friendships with them.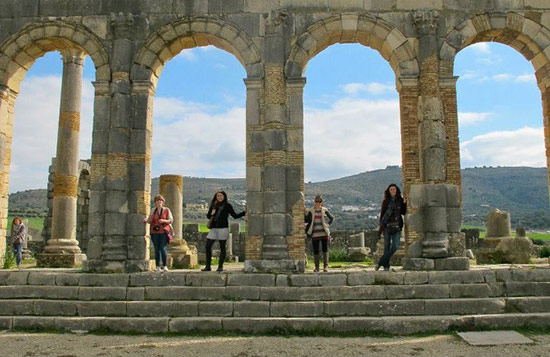 How has this experience impacted your future?
Emma: Being able to experience another culture has really opened my eyes up to the world. My global understanding, while still needs improvement, has increased dramatically from 3.5 months as a foreigner. I am now considering a career internationally, potentially in Mission work. In addition, since I have experienced such generous hospitality from a different culture, I have been motivated to display that same hospitality to people that I encounter, especially foreigners.
Highlights: Academically, the highlight was when I had the realization that I could understand what people were saying to me, and that I could read signs and billboards! I went to Morocco with no knowledge of Arabic, so I was overwhelmed by my inability to communicate, until after a few weeks of studying, when it just clicked! I was so excited, that I talked to Moroccans as much as I could!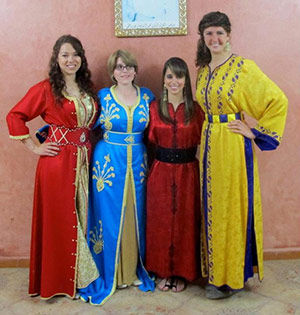 Another highlight of my trip was being able to experience a Moroccan wedding. It was the most extravagant meal that I have ever had, and probably will be. I felt like a princess, and I wasn't even the bride! The wedding went from 9 pm until 6 am, and it was absolutely beautiful! We wore traditional Moroccan dresses, danced the night away (literally) and watched in awe as the bride wore 5 different dresses, and was carried around on a little couch by these Moroccan men. It was beautiful, and so much fun, and I will have those memories forever!
Morning: On a typical morning, I would make myself a quick breakfast sandwich, grab a piece of fruit and walk to my University which was about 30-40 minutes away. I would listen to my music, chat with friends, and wave to familiar people along the way. Then I would go to my Arabic class and other content courses taught by Moroccan professors. I really enjoyed the chance to learn another language, and learn from a completely different perspective than my previous professors.
Afternoon: I would come home for a Moroccan lunch made by an incredibly sweet Moroccan woman, named Zakia. Sometimes, she would even teach me how to cook some Moroccan dishes! Then my friends and I would meet over at the ISA office to hang out with our program directors and study, before heading back home for dinner. Twice a week, a few students also taught English classes to a group of 12-15 hilarious Moroccan women, who helped us with our Arabic while we helped them with their English.
Evening: My evenings varied depending on the night. Sometimes I would go practice volleyball with the Moroccan volleyball team. Other nights my friends and I would go over to our Moroccan friend's apartment to watch Barcelona futbol games and enjoy each others company. And other nights, we would go to nearby cafes and eat chicken, yogurt, or juice and chat.