Why choose ISA?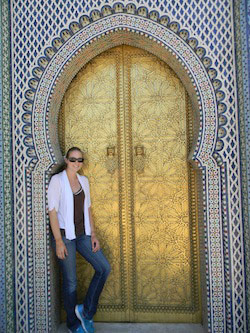 Gwyneth: I chose to study with ISA because it had all the classes that I wanted/needed for my majors. It was affordable, friendly and they really pumped me up before I went. I wasn't disappointed.
What made this study abroad experience unique and special?
Gwyneth: What makes study abroad in general so special and unique is that as much as we are about cross-cultural learning, language learning, and sightseeing; most of all, it is a introspective look at yourself and your culture. You are irrevocably changed for the better because you come back with a better understanding of self, what you want in life and what is important to you, especially in the context of your culture.
How has this experience impacted your future?
Gwyneth: My life would be COMPLETELY different if I had never gone to Morocco. Immediately after I returned, I was involved in promoting study abroad, I've done several papers on Moroccan topics such as the Amazigh language, anthropological studies of women, and our relationship with the US. Like I said, many of my teachers in Meknes were supportive of my Fulbright application and are people I still keep in touch with.
Highlights: One of the highlights of my experience was the Sahara. Everyone says the Sahara is their favorite, but it was how my group bonded over that weekend and how we became so close. We all raced up the biggest dune we could find to watch the sun set. We were all panting and exhausted, so we raced back down to the Berber tents to have dinner and laugh. At night we danced to our Berber guides and their drums and put our sleeping mats out under the stars and giggled until the early dawn. I wished I could have frozen time with the stars so unbelievably bright with no light pollution and us, the students trying to find our meaning of life or just giggle about our cultures.
Academically, my professors at Moulay Ismail made the biggest impact on me. They still continue to amaze me. After being away 2 years, I had a professor and our acting dean write me letters of affiliation for my Fulbright application. They only spent a summer with me and even though they are another world away, they are still so encouraging and supportive.
Morning: Every morning I would wake up and have a quiet breakfast of coffee or Moroccan tea and baguette with strawberry jam with my host mom before heading off to school. My host dad would already be outside at work (He was a horse trainer) and my host siblings would still be asleep. Some mornings I would get up early to go ride with my host dad. I would walk to school which was only a few blocks away and then attend Arabic classes until our coffee break. I would sit and chat with other ISA students and our teachers until classes resumed.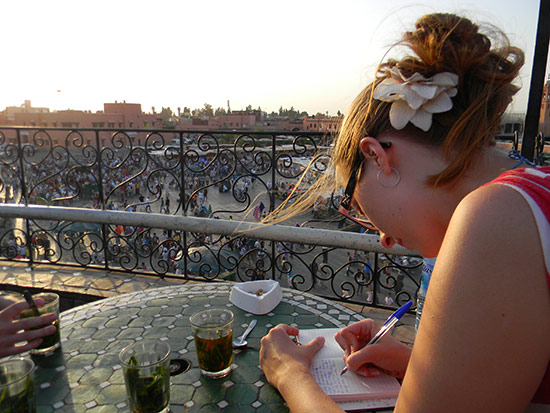 Afternoon: Lunch was usually 1 or 2pm. I would walk home for a big tagine lunch (most important meal of the Moroccan's day) with my host family. Depending on the day, we would traditionally take a mid-afternoon siesta (fancy Spanish name for a nap) during the hottest part of the day before going back to classes.
Evening: In the evening, my host mother would fix a light dinner of vegetables, but if we had company over, my dad would set up a big grill outside and we would have lamb brochettes (kebabs) and bread. Afterwards, we would have coffee and tea and sweets over endless conversations usually in a mixture of French, Arabic and a little broken English.