Highlights: The highlight of my trip was being around other people who wanted to integrate travel into their life. The girls in my apartment are people I am still close with to this day. Even though I do not talk to them as often as before, we still keep a thread on Facebook to keep each other updated on our lives. It was also during this trip that I became so close with a roommate that we decided to go to Madrid together through Ryanair, a budget airline I had never heard of before this trip.
The second highlight of my trip was being immersed into a beautifully, rich culture. Moroccans are kind people. If you buy a lot of merchandise from them, they often throw in a small, free gift. They will help you with directions or walk you to your destination if you are lost. They are also quick to treat you like family, so do not be surprised when you meet someone and they invite you over for dinner!
Morning: A typical day in Meknes started early if you were taking Beginning Arabic. There was always the option of walking to school, but when class starts at 8 a.m. and a taxi ride only takes 10 minutes versus walking for an hour, the former became a habit. Classes in Morocco never quite start on time, so class really started around 8:10. After an hour and a half of class, a professor from another class would knock on the door, signaling that it was time to take a break. In the U.S, a break for a class would usually last ten minutes at the most. Well in Morocco, breaks could run as long as a half hour. During this time, students and professors would drink tea, talk, laugh and tell the students funny Arabic words. It was in this cafeteria that I first tried fresh squeezed orange juice and a sweet snack called Jika. To this day, it is hard for me to drink orange juice that is not freshly squeezed! In this cafeteria I also learned how to say "toilet paper" in French (papier de toilette) because I would have to ask for it before I went into the bathroom, so as not to be surprised when I got in there!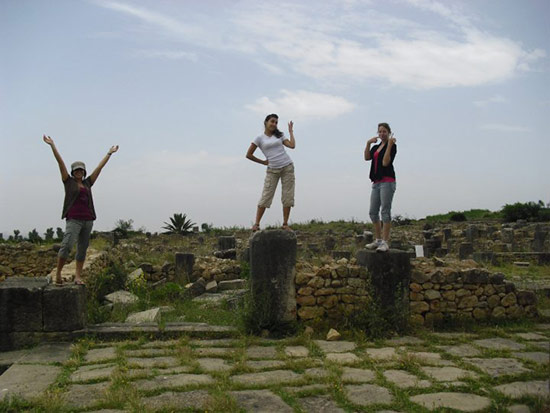 Afternoon / Evening: Regardless of whether I had class in the afternoon, I would always go back to the ISA apartment because a fresh, Moroccan lunch would be waiting at the table. Having home cooked lunch from local women meant not having to go out to a restaurant to try the local food. There it was. Right in our apartment! Afternoons and evenings were typically spent in the Medina, the Old City. The Medina is a huge market that contains any kind of souvenir or item you could possibly want. Prospective visitors should know that bargaining for merchandise is a way of life and expect to drink a lot of Moroccan mint tea with locals and friends. As the day went on, people would play music in the open area. It was always full of life and activity no matter what day of the week.