ISA Study Abroad in Meknes, Morocco
Term
Academic Year, Fall, Spring, Summer
View Other Details

Program Details

Degree Level

High School Diploma

Housing

Apartment

Host Family
6 travelers are looking at this program
Students will take courses at the ISA Meknes Study Center, which is located in the central and dynamic district of Hamria. The study center offers exceptional academic programs taught by highly qualified local and visiting professors from around the world. Students can take courses focusing on language, politics, religion, international relations and more. Local NGOs are also based at the same facility, which offers program participants the unique opportunity to interact with organizations working to promote economic and social development in the area. Upon completion of the program, students will receive a U.S. transcript from Carroll College in Montana.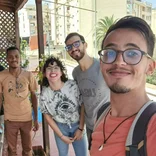 Located in dynamic district of Hamria, the ISA Meknes Study Center offers excellent academics with courses taught by local and visiting professors. Local NGOs working to promote human rights, economic, and social development operate out of the same facility. You'll have the option to choose from a variety of course options in disciplines such as political science, Middle Eastern studies, gender studies, Arabic language, religious studies, French language, and international relations.
ISA Scholarships and Financial Aid
ISA is committed to increasing all students' access to study abroad's many benefits. We don't let financial hardships to get in the way of a life changing educational experience.