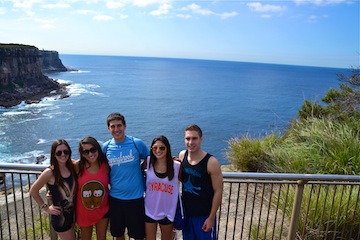 Why did you decide to study abroad with TEAN?
Kyle: I chose to go to Australia through TEAN because my older sister had done this program two years before me and I had heard nothing but great things. I was originally going to do a direct exchange through my University and just do the housing only program with TEAN. However, I decided I wanted all of the perks TEAN had to offer so I opted to do the full program.
What made this study abroad experience unique and special?
Kyle: What makes TEAN so unique is all of the extra things they offer beyond school and housing. They provide pre-semester and spring break trips that are absolutely amazing. I went on both their Cairns pre-trip and the spring break trip to Thailand. It helped me get to know the people on my program so much better and a set group of people to travel with. The trips were also planned so well and showed me these places in the best and most fun way possible.
Describe an example when TEAN went above and beyond the call of duty to ensure you had a great experience abroad.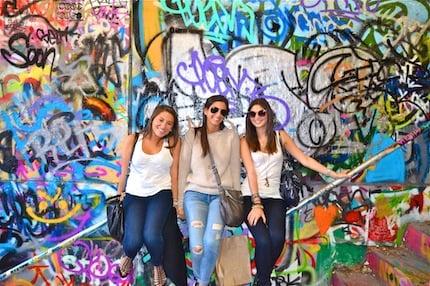 Kyle: First off their staff is exceptional and are there every step of the way to make sure everything is set before you get there and goes smoothly the entire time you are over there. The staff that traveled with us on the trips was also very fun and always looking out for our best interests. Another thing TEAN did was have other little things for us to do throughout the semester. A new addition in my semester, that I know they will continue, is provide us with tickets to three different cultural events. My events were the ANZAC day rugby league game, a symphony at the Opera House, and a show put on by the Cate Blanchett Theater Company. All we had to do in order to receive these tickets was write a 200-word blog post about it after we went. They were really great and it was such a nice bonus to the program.
How has this experience professionally impacted your future?
Kyle: This experience has opened my eyes to how a different culture works and really caused me to be more laid back like the Australians I was surrounded by. It ignited my passion for travel and I know this is something that I will carry with me the rest of my life. As someone who wants to get into the TV and Film industry it showed me these industries in other parts of the world and made me want to integrate travel into this career (maybe work for the Travel Channel?!).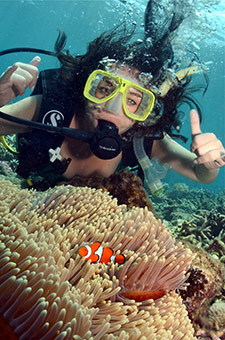 Highlights: Even though this was study abroad I would not say academics were the highlight of my trip at all. The two highlights for me were all of the traveling I got to do and the close connections I made with a few Australia girl friends. I met them early on and hung out with them at least once a week from then on. We got so close and still keep in contact today almost five months after I left and know we will in the future. They took me to parties and showed me their favorite spots which really enhanced my overall experience there.
Morning: To say any two days during my time in Australia were the same or that there was a typical routine would just not be true. I tried to make each and every day different and do something new each day. During the week I had class 4 days at various times. Some days class was not until the afternoon and on those days I liked to meet up with friends for breakfast or go shopping somewhere near the my building in Bondi Junction or in Bondi. I really tried to take full advantage of living only about a 7-10 minute bus ride from the beach, something I had never experienced in my life. The Tiffany Tower where I lived, and is TEAN's premiere housing option, sits directly above the Bondi Junction train and bus station. So even though UNSW's campus was 20 minutes away we could just jump on a bus right downstairs and there was always someone from the program going to class at the same time.
Afternoon: Sometime in the afternoon every day but Friday and the weekends was spent on campus. I typically ate lunch on campus two of those days. I loved the food they had, including an amazing salad place in the upper campus food court and a noodle bar in the Quad one. After class on Wednesday's the Uni Bar had happy hour and tons of students gathered there for an after class drink. This was always a good time. We always took the bus home and sometimes before heading home we would go explore a new area of Sydney or shop a bit. By shopping I usually mean just looking since everything was pretty expensive there. The Tiffany was also right next door to one of the largest malls in Sydney, it's a Westfield. It had everything you could possibly need, not only clothing and typical mall stores but two groceries, a Target, a pet store, and so so much more!
Evening: We were lucky to have a great kitchen in our apartments so we took advantage of this and cooked a lot of evenings while others we would go out and try new restaurants. We went out a majority of the nights during our time abroad and most nights had a specific bar that were good on that night. Monday nights we went into the bars near central, known for being backpackers and study abroad bars. Tuesdays we would go to the cross to my favorite bar, World Bar. Wednesdays it was basically American night at a bar near Bondi Junction, which was convenient. The only Australians that were there were looking to meet Americans. Thursdays were not a big night so we typically did wine and a more low key bar. The weekend nights were definitely the most fun and we would go to clubs in the city. These were definitely my favorite. I will say one thing, I never turned down the chance to go out!