Why did you decide to volunteer with African Impact in South Africa?
Claire: I had always wanted to do a volunteer abroad program and Africa had always been my first choice. I had a little time in the summer that year so I decided to research online and see if I could find anything. African Impact came up and I visited the website. There were also great reviews and I had a look at the Facebook page. I found the St. Lucia project and it really appealed to me. The idea that the projects aimed to be sustainable and the overall aim of the company really connected with me. I got in contact via the website and within hours I received a phone call. They were so quick at responding and so easy to talk to that I couldn't refuse. I kept in touch by email and everything went through quickly and easily. I would recommend them to anyone interested in volunteering and will probably use them again.
What made this experience unique and special?
Claire: The whole experience was like a dream. It was everything I thought it would be and more. I made so many incredible friends and South Africa really did find a special place in my heart. The staff were so friendly and easy to talk to. They made the whole experience that bit more personal and made you really feel like you were making a difference.
The people of the communities were so welcoming and loving and were such an inspiration. You got the opportunity to do different projects so every day was unique. As well as volunteering, I had the chance to see some of the country, the culture, food and wildlife. I built so many bonds, especially with the children as you got to know them so well. I was surprised at how little the language barrier got in the way. The children spoke with their smiles, hugs and laughter. It was magical!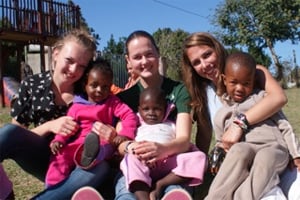 How has this experience impacted your future?
Claire: The time I spent there will never be forgotten. It has made me so much more grateful for what I have and the opportunities I have been given. I think twice now before I moan or complain. It has made me realize what is truly important and that life is precious and short.
Traveling has always been an interest for me but now I want to see more, do more and make more of my life. I have realized that although my studies are important, they are not everything and life shouldn't be planned and strict but should be a daring adventure full of twists and turns.The trip was so important to me, I actually had Zulu words tattooed on my side a few weeks later. It was a life changing experience. Jump right in and get involved!