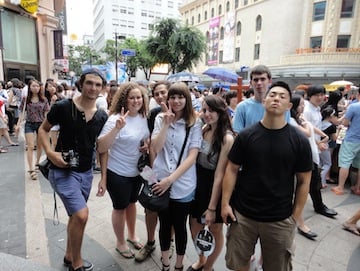 Why choose the ISA?
Nicole: I chose ISA because as a first-time traveler, I really wanted (and needed) the support that their program provided. Access to our on-site coordinator, the ISA office, and simply the information they provided were extremely beneficial to me and eased the anxiety that is inevitable with traveling alone to an unfamiliar place. In addition, the length of my program and the fact that it took place during summer made it much easier to fit into my schedule, which wasn't the case with many other providers.
What made this study abroad experience unique and special?
Nicole: One aspect of my study abroad trip that I soon discovered made it unique and special was the involvement of international students. Many of my friends who have studied abroad went with other students from my college or met other American students from all over the country. My ISA program, on the other hand, consisted of only 6 American students within another program for 60 international students from all over the world. This meant that instead of simply meeting new friends from my destination and other Americans, I befriended people from France, Mexico, Canada, Scotland, Qatar – the list is endless. Clearly, it is extremely rare that I would have met these individuals otherwise, and I am so grateful for the opportunity to meet these friends, many of which I already know will be around for a lifetime!
How has this experience impacted your future?
Nicole: This trip was certainly the most life-altering experience I've ever had. In terms of academics, the trip motivated me to add an "International Studies" minor to my degree. Professionally, it has spurred an interest in teaching English abroad after graduation – preferably in South Korea! The strongest impact, however, is certainly in my personal life. I suffered from some serious anxiety in the years prior to my trip, but upon returning I definitely discovered a newfound self-assurance that allowed me to accept more leadership positions at school – many of which involve the study abroad office on campus. The trip gave me much more confidence than I'd ever had previously, and some of the best friends I am lucky to have met. I am committed to sharing my experience and urging other students to have similar adventures.
Highlights: The highlight of my trip academically was genuinely all my classes. Korean classes are not offered at my college and the one I took at Konkuk University was a relatively small class of students from all over the world. To have such an international experience as an American – learning Korean language with newfound friends from England, the Netherlands, Macau and countless others, is indescribable.
My other class was taught by an exchange teacher from Spain and literally consisted of only two students including myself. This allowed us to become extremely close in a short amount of time and bond over being foreigners in our beautiful host country! Lastly our cultural workshops allowed me to be involved in rich cultural outings I never would have experienced otherwise. I love being able to tell people I visited a Buddhist temple, Korean national treasures, and received a certificate in tae kwon do!
All the international students and Korean volunteers spent as much time together at night as possible, even though it was upsetting later when we all had to separate. I don't regret any of the nights I barely slept, because all the memories were worth it. All the individuals in my program taught me something about being a global citizen, and I am grateful to each and every one of them. There are some moments you look back on and realize it was the time you were most content. During those 6 weeks, I never had to look back. I knew at that time it was the happiest I had ever been in my life!
When I left Korea I left a piece of my heart, and when the other students returned to their respective homelands they took a piece of my heart with them. My desire to visit even more countries is strong, but I will forever remember South Korea and Konkuk University as the greatest time in my life to date.
Morning: I had previously been warned that "breakfast" in the traditional American sense was not common in South Korea, so I tried to prepare accordingly. Luckily, the dorms I resided in offered hot/cold water and a fridge for our floor. I stocked up on yakult, which is a popular Korean/Japanese probiotic drink similar to yogurt, drank lots of tea, and also developed a not-so-healthy obsession with Korean pastries! Showering was interesting because I was not used to the "open" environment in the bathroom. There was no shower curtain or anything similar, simply an open stall, and the drain was in the middle of the room (including the sink and toilet) so essentially the entire room was one giant shower. This daily morning routine concluded with the international girls gathering outside our dorm to walk the length of Konkuk University's beautiful lake as a group to Korean language class.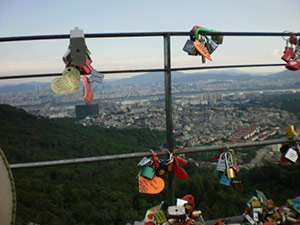 Afternoon: After our class got out at 11am, we would often head straight to lunch before our second class began at 1pm. Occasionally we would head to the restaurant close to our dorm but because the food was so great and the space was so small, it often took a very long time to get food and was impossible to sit down in. Filled to the brim with Korean students, it was certainly a different experience walking into an eating establishment and noticing every eye turn to you and stay there, staring curiously. Our other option was to eat at Konkuk University's cafeteria – which was certainly not "college cafeteria food" in the dreaded sense American students talk about it! It was incredibly cheap (around $3) for a meal, but the food was so wonderful and each person received a lot for his or her money!
Evening: Although classes were fairly early, we tried to make the most of the short six weeks we had! We went out nearly every night, whether it was to karaoke, trying a new restaurant, or dancing. The Korean student volunteers were invaluable in helping us find things to do. It was incredibly easy to lose track of time because Seoul never seemed to shut down! Near Konkuk University, practically every other shop on the street was a 24-hour coffee shop, and there were plenty of people around regardless of the time. It was exciting and made me feel very safe, even if I was traveling and it was a bit late. We also did as much exploring as we could on our own, which was simple with the subway only about a block away and buses everywhere. I have no sense of direction, but I mastered the Korean subway by the end of my trip!