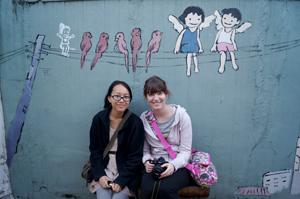 Why did you pick this program?
Bao: What drew me to ISA was the excursions. I wanted to see South Korea as a whole, and not just stay in Seoul. There is a whole different way of life outside of the city, not to mention that many of the best palaces and historical places are outside of Seoul.
But I also liked that ISA was so supportive at every stage of the process. I always felt that I could ask the ISA coordinators anything. Studying abroad in South Korea was the first time that I traveled abroad let alone by myself, and I was freaking out. I really liked that ISA kept in touch through each of the process once I got accepted into the program. In my student portal, there were a lot of resources including a survival guide that answered most of my questions.
What do you wish someone had told you before you went abroad?
Bao: I wished that someone had told me that it was okay for me to adjust and miss home. For me, and for a lot of other students, study abroad is a year long process from writing and applying to scholarship, so it would make since that I should be ecstatic once I am abroad. And I was super excited to be in another country, but after being there for a month I started to miss home. I missed my mom's cooking, I missed my family. I missed not having to always be alert and be "on all the time" in order to function in a non-English speaking country.
Although, I knew about cultural shock, I just didn't expect my cultural shock to come in the way that I experienced it, so I didn't even know that I was going through cultural shock. I was so thankful for the ISA staff in Korea and having other American kids to hang out with. I know that they say you should make Korean friends while in Korea, but American friends are just as important, especially when you miss home.
What is the most important thing you learned abroad?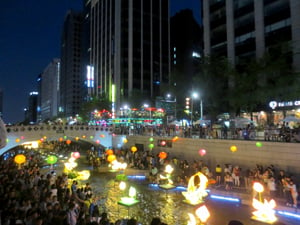 Bao: The importance of Korean body language i.e. bowing to older individuals. Koreans are really big on body language, and especially for someone who doesn't speak fluent Korean, body language helped a lot in social situations. I remember that I was late for one of my classes when I was in Korea.
When I entered the classroom, everyone including the professor looked at me. I felt so bad for being late (punctuality is important in Korea), so I gave the professor a respectful 90 degree bow and said hello in Korean. My professor was impressed and did not mark me tardy for that day.
In a funny situation, my group of friends and I met the principal at the school we were volunteering at. The ISA Director told us that when the principal came into the room, we needed to stand up and do a perfect 90 degree bow and say hello in Korean. We were nervous but prepared, unfortunately none of us knew what the principal looked like. We all bowed to the first man that walked into the room. He was actually a teacher at the school. He was taken aback and amused by our respectfulness. Eventually the principal came into the room, and we did what we had to do.
But aside from formal situations, in everyday circumstances I learned to nod my head in acknowledgment of people. When I see stranger, or when a store clerk says hello to me, I would look at them and nod my head. The only problem was that when I came back home, I couldn't stop nodding and bowing to people. It was an odd feeling trying to resist bowing and nodding.
What is one piece of advice you'd give to someone going on your program?
Bao: I would say really get to know your ISA staff in Korea. They are awesome, and they can be a great resource. I know that the two staff member in Korea were so helpful when we had to pay for our phones, and or order something. They are always happy to help, and now you will forever have someone you know who lives in Korea.
Another advice is to think about reaching out to other organizations outside of the school. I know a couple of students who got in touch with International churches while in Korea. They made friends and connections through their faith. So if you are into certain things, don't feel like you have to give it up while you are abroad. Seek out organizations relevant to your interest, so you can feel more comfortable being gone for 4 months.
Do I have to like K-pop to enjoy my time in Korea?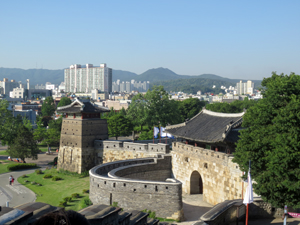 Bao: Absolutely not, but that isn't to say you won't learn more than you want to know about K-pop while you are there. I knew very little about K-pop, and I didn't have any interest in the genre. But most of my American friends were more than happy to enlighten me. Furthermore, it was hard for me to not get into the spirit of K-pop; everywhere I looked there was something related to K-pop.
In Korea, they go all out in promoting K-pop groups from a life-size paper cut out of K-pop idols to K-pop idols advertising pizza. It's like when Bieber Fever was at its height, but ten times more crazy and awesome. But Korean music in general is vast in taste and sound, so you might find a subgenre that you might like. And remember Korea has more to offer than beautiful K-pop Idols. There is culture, history, people, food etc.