Why did you decide to volunteer with VISIONS in Peru?
Amelia: I decided to volunteer abroad with VISIONS for a lot of reasons. The main reason is because I wanted to travel during the summer instead of just going to camp again. I spent a lot of time on the VISIONS website and talking to past participants. It seemed like VISIONS was a program that could offer an amazing experience as well as community service. VISIONS had SO many places I could choose from to travel to. I chose Peru because we got to hike up to Machu Picchu. In Peru, we didn't just go to sites to work. We worked with the natives. Not all trips I looked at were quite like VISIONS. Everyone I talked to say they had an amazing time wherever they went. I definitely chose the right trip.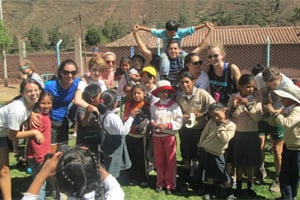 Describe your day to day activities as a volunteer.
Amelia: One of the councilors came around to knock on doors of our rooms at 7:30 am almost everyday. There were maybe 5 times all month when we got to sleep in until 8:30. Breakfast was at 8:00 so if you wanted to get dressed after breakfast, you could stay in bed for another 20 minutes or so. We would all crowd around a giant cement sink to brush our teeth because the bathrooms were too small for more than one person to fit.
At 8:00 we had a little 5 minute meeting before breakfast so our councilors could explain the day and we could choose which work sites we wanted to go to. After that, the group of 5 people who woke up at 7:00 to prepare breakfast for everyone would serve us and we would all sit down together in the "dinning room" (room with lots of tables and benches) to eat breakfast. Sometimes we had eggs, pancakes, cereal, yogurt, etc. Between 8:45 and 9:30 we would leave for the work sites. The group of 5 people who prepared breakfast that morning stayed home all day to clean, make lunch for tomorrow and go shopping for odds and ends we needed. The rest of the group (about 20 people) went off to the sites. We went in a bus that we used all month. We worked from about 9:30 or 10:00 am to about 12:30 pm and stopped for an hour lunch break.
After lunch we continued to work until about 4:30 pm. At the sites, we got to work with the natives who lived in that area. When we got home, we either showered (if the water was still on) or just hung out around the house. Twice a week we left work at 3:45 so we could go to workshops at 4:00. Workshops included jewelry making, carpentry, ceramics, weaving and bee keeping. Locals would invite us into their shops and show us how they do their jobs. They were always so nice and friendly!
At about 6:30 we ate dinner that our cooks made for us. It always consisted of a soup, meat and grain with a fruit or vegetable on the side. We had a lot of chicken and rice. After dinner we just hung out, played a group game or had allyu. Allyu is the Peruvian word for "community." We set up a fire in the courtyard and sat in a big circle and just talked about our day or the past couple days. We thanked people for helping us or confronted people we weren't pleased with. It was really relaxing and a great way to wind down the day. Lights out was usually at 10:30 pm. On weekends, we traveled to ruins and cool places around the area, but a typical work day usually played out similar to this.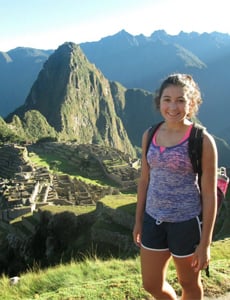 What made this experience unique and special?
Amelia: While I could have chosen a teen tour to go on, VISIONS allows you to really blend into your surroundings. In Peru, my group lived in a town that was not a tourist town. Unless you lived there, there was no reason to go there. I did not encounter any native who spoke English. This really forced the group to use as much Spanish as we knew.
Some people knew more Spanish than others depending on what level they were in at school. I was closer to the "not as fluent" part of my group, but our counselors always made sure that I was with someone who was pretty fluent so I never felt uncomfortable. VISIONS not only allowed me see how the natives live their everyday lives, but it also allowed me to participate in them.
How has this experience impacted your future?
Amelia: By going on this trip, I have definitely improved my Spanish speaking skills in school. I learned how to communicate with people in Peru rather then just learning grammar. I remember words that I learned on my trip that I use in sentences when speaking to my teacher. While the natives I spoke to helped me learn, my group also helped me learn.
Like I said, I was on the less fluent side of my group and by listening to them speak to natives really helped with my accent and vocabulary. This trip has given me an experience of a lifetime. I learned so much about hiking and the outdoors. For example, how to pace yourself so you don't get tired too fast, and don't drink all your water within the first hour!