Morning: My typical morning in Peru was filled with excitement for the upcoming day. I would wake up at around 7:45 and walk outside my cabin to the smell of brewing coffee as the cool air surrounded me. We would all get our work clothes on and line up in the kitchen to get our breakfast serving. Then, we would all sit outside, waking up and the sun rose. We would then decide where which site we wanted to work on that day. My favorite was "Los Baños," or the bathrooms we were building at a preschool about an hour away. We then hopped on the bus with our amazing driver and friend Nico and awaited our arrival. After we got to the site, the head native workers on the project would assign us certain tasks for the next few hours. We would usually be paired up and sent to mix cement, carry wood, chop wood, or really just anything they needed us to do.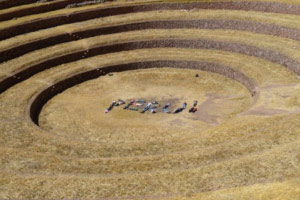 Afternoon: A typical afternoon in Peru consisted of a packed lunch that we brought with us to the site, usually peanut butter and jelly or another type of sandwich. We would all sit together, relaxing under the hot sun that just caused us to sweat oh so much. After lunch, we might work a bit more and then we drove back to our home base in Urubamba. We then either had free time for the afternoon to explore the town and walk around or we had a planned activity such as basket weaving or beekeeping. We would go to a native's home and learn what they had mastered. We went in groups of about 5 and each group went to a different home each time we had an activity.
Evening: A typical evening was composed of a delicious dinner cooked by our personal cook Neyda. She made wonderful Peruvian meals for all of us, allowing us to really understand the culture. We ate dinner quite leisurely, catching up with our friends who we may have not seen much of that day because we went to a different work site. There was always lot of entertainment going on. Someone might be playing guitar, there might be an impromptu dance off, or something else crazy and spontaneous. Then, we would either have a planned outing, such as dance lessons with locals, or an language exchange with native teenagers. If we did not have an outing, we would have something called "Communidad" three times a week. This is a time where every single person on the trip, including group leaders, sit in a circle and discuss what is on their minds. It is a special and rewarding time when there is no judgment and conversations fly into realms one would not believe. It is a unique and incredible feature of Visions.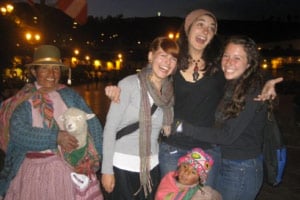 Highlights: The highlight of my trip was the moment the "Baños" were revealed to the locals. Their faces filled with gratitude, as all of the elders made speeches about how happy they were. After working so hard for so long, actually being able to see the final product was an incredible feeling. I recalled the first day when all that we saw was a plot of dirt and could not believe that we as high school students had really just constructed these bathrooms. I thought about how these little preschoolers would not have to go to the bathroom in filthy latrines any longer and as I stood there looking at those two structures, I felt overwhelmingly thankful that I could be a part of such a wonderful experience.
Visions brought many unbelievable people into my life. The leaders that I met in Peru are some of the most incredible people I have ever met. There were so many wonderful aspects to the trip, and each leader contributed greatly to the success of every thrilling experience for the participants. In the beginning of the trip, I was terrified of hiking and did not believe I had the strength to climb a mountain. Yet, by the end, I was a master hiker, climbing Machu Picchu with an energy I had never had before. The leaders encouraged every participant to take risks and not settle for a simply satisfactory experience. They wanted us to come back feeling changed, and it's true, I did. I came back to my town a better, more understanding person.