Why did you decide to study abroad with VISIONS in Peru?
Michelle: Summer 2013 I went to Costa Rica for 4 weeks with another community service program called "Global Works". I was looking for a trip that had more work hours and more difficult projects, so Global Works recommended "VISIONS".
I knew that I wanted to do a program for 4 weeks, which limited some of my options because most VISIONS trips are 2-3 weeks, but I also knew that I wanted to go to a spanish speaking country, so Peru fit my requirements.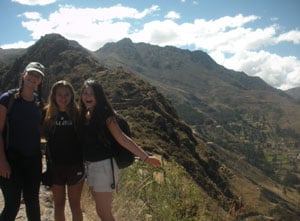 What was the best moment of the entire trip?
Michelle: My best moment(s) were definitely the hikes. Our group went on 4-5 hikes throughout the month, and each gave a different, incredible view. The hikes were tedious, but they were a great workout and on the way up we had group bonding and funny conversations and sang songs, which passed the time quickly and we were soon rewarded with the stunning view of the Andes Mountains.
The best hike obviously had to be Machu Picchu. Our group took a train up to Aguas Calientes where we spent the day walking around other ruins. At 4:30 the next morning, we began the long hike up to Machu Picchu. We got up just in time to see the sunset, which I have to say was the most beautiful view of the entire trip.
Has your worldview changed as a result of this trip?
Michelle: At several points during the trip, we explored villages and cities and learned about the lives of the Peruvians. We had a home stay for 2 days in Yanahuara, in which I helped with housework and entertained my "brothers and sisters" of the family.
I went into the village not knowing what to expect and unfamiliar as to how families in this part of the world lived. As soon as I hopped off the bus, my homestay mother kissed me and said in Quechua (the native language to Peru) as to how excited she was to have another daughter.
We walked to her house, and to my surprise saw guinea pigs running around the kitchen floor and native fruits scattered about. I saw how the living conditions differed from America, and how these people had a limited amount of food and space for their families and how their income was so much less than what would be considered "poverty level" in the United States.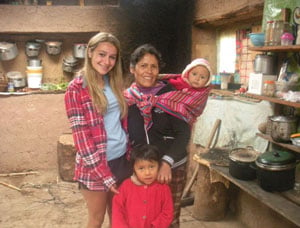 Even though these people were living off of a salary which translates to about $7 a day, she still used her money that could be put towards her family, towards me. The Peruvian people were definitely the most kindhearted and generous people I have ever met, and I quickly learned that you don't need to have money to be happy, you have your family and friends and that's enough.
Any tips for someone considering this program in the future?
Michelle: A person who is considering the trip should be very comfortable being independent. The counselors provide to your needs and try to make you as comfortable as possible, but it is really up to you on how you adjust to the new setting that becomes your home for the next few weeks.
I consider myself shy, so adjusting and making new friends was definitely a little nerve-racking to me, but the people on the trip were just so friendly that I had no need to worry. Phone calls are limited to 1-2 times a week, so you really have no interaction to what is going on at home, so anyone who gets homesick easily may have difficulty. As long as you go into the trip confident and exciting, there is no need to worry because I can promise you that you will have a good time.