Why did you decide to volunteer with Volunteering Solutions in Peru?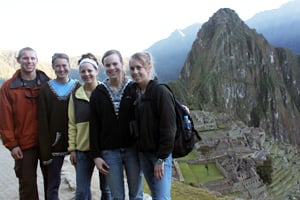 George: We chose Volunteering Solutions as they were very responsive in our needs for a family missionary trip to Cusco.
Describe your day to day activities as a volunteer.
George: Day to day activity for the medical folks was working in medical clinics assisting with Obstetrical patients and giving immunizations in well child clinics. We took the bus or taxi's to our clinics each day.
Others worked with kindergarten children and worked from 0900-1300 each day. They helped them learn English and played many games with them.
What made this experience unique and special?
George: The people were very kind and appreciative. It was very humbling to work with such kind people. We felt very comfortable and welcome in Cusco. The trip to Machu Pichu was absolutely breathtaking and very spiritual.
How has this experience impacted your future?
George: I will continue to serve on medical missionary trips. I have learned contentment and living each day fully.