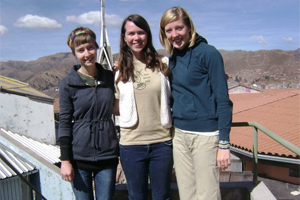 Morning: Each morning I woke up with my fellow volunteers and host family to each a breakfast of tea and delicious bread with jam and butter. I then rushed off to catch the combi (bus) with my friend who was also working in the same program. We rode the bus to a stop about two blocks away from the school we worked in. We then spent the morning singing songs, playing games outside and doing arts and crafts with the 30 or so children in the school. The teacher along with mothers of some of the students would explain to us the plan for the day and we would help make it happen. Then sometime between noon and one, we would set up and then clean up their lunches, and head back to our host family's house.
Afternoon: The afternoons started with an amazing (and enormous) lunch made by our host mother. Our host sister came home from school in time for lunch and we all ate together. The family then returned to their school/job and we had the afternoon to go to the store, internet cafe or tour around the beautiful town of Cusco. Most often we took a combi into the center of the city and explored the city.
Evening: In the evening we spent most nights at home with our family watching television, drinking tea and playing fiercely competitive card games. Usually our host mother would leave food out for us to eat for dinner but they rarely ate at night and we got used to not eating much at dinner. The nights we did go out were so much fun! Usually our host brother (who was around our age) would escort us to clubs or events happening in the center of town but gave us plenty of space. It was nice to know we had someone who could help us get home if we needed help, but didn't hover. We spent the month of June in Peru so we were able to witness both the Inti Raymi and Corpus Christi celebrations which spoke volumes about the role of Inca and Christian cultures in Cusco today.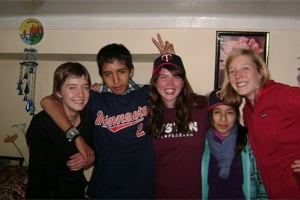 Highlights: The highlight of my volunteering experience is easily connecting with the students of the school I worked in. Even with my flawed Spanish, I was able to communicate with most of the students easily. It was honestly hard to leave the school after only a month of working there. The highlight of my experience overall was definitely my host family. I feel so lucky to have meet such a hospitable and loving family. I still keep in touch after a little over a year since my trip because I don't think I will be able to forget how they shaped my trip. It sounds cheesy but they felt like family. They recommended places to go, gave lots of advice on how to get good deals and didn't hesitate to help when I got sick. I am so grateful.