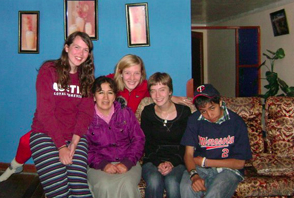 Morning: During a typical weekday morning, I would wake up around 8am to get ready for the day. I'd take a shower, dress warm and eat breakfast with my roommates since our host family left for work and school before us. For breakfast we'd have bread with jam or cheese and tea.
At 9am, we'd walk from their house down the road to the bus stop to take a combi (a type of inexpensive public transit) to the kindergarten where we worked. The trip only cost 0.60 soles, so it was much less expensive than a taxi (which can cost around 6 or 7 soles). When we got to the school around 10am, we'd help the teacher prepare for her lesson and greet the students and their families.
Afternoon: During the afternoon, we'd play with the kids and teach them a basic English lesson. We'd also help them with arts and crafts and eat lunch with them. It was fun learning and teaching different games, and we'd help the teacher with whatever we could. We'd stay until around 2pm, when we left and took a combi back to our house. Often on the way home, we'd stop at the corner market in our neighborhood for drinks and snacks, or at the nearby internet café to keep in touch with our family.
When our host family came home, we'd help our host mother cook and set the table. Lunch was always the biggest meal and the time when we could all talk about our days and make plans for the evening. I would recommend making sure you're hungry during lunch time—our host mother would always insist on us eating more! On the weekends, our whole family would go shopping at the local markets or my roommates and I would explore Cusco.
Evening: The evenings were my favorite times because we got to spend time with our host family. Sometimes the evenings would be relaxing, with our family watching TV or movies together. We would also play cards and read. Dinner was usually small, often just bread with cheese and jam or leftover food from lunch.
Some evenings our host mother would teach me how to cook things like arroz con leche, and we'd all stay up drinking tea and talking. Other nights we would leave for downtown Cusco in a taxi (which is generally considered safer at night) to go shopping or run errands. On the weekends, our host brother would take us out to see the night life and go shopping.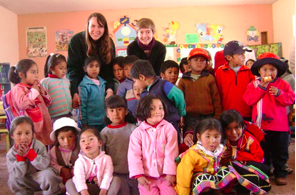 Highlights: The highlight of my volunteer experience was our last day teaching at the school. Some of the kids dressed up, and we all danced and sang together. The teacher brought us parting gifts and our coordinator brought a cake for the class to share. My favorite part was when the whole class recited the English words my roommate and I had taught them. It was so rewarding to hear them remember what they had learned.
As for the overall experience, it's hard to choose just one highlight. Of course Machu Picchu was incredible, and it was amazing to be able to spend the whole day there hiking around and climbing the mountain there. It was also fun to stay in Aguas Calientes, the town nearby. Fortunately, we went to Peru in July, which is a major month full of holidays, so we were able to celebrate Corpus Cristi and Inti Raymi with our host family.
However, I think my favorite highlight of the overall experience was living with our host family. Not only did our Spanish improve vastly from the total immersion of talking to them, but we all became so close. I miss my Peruvian family all the time, and I can't wait to visit them again someday.