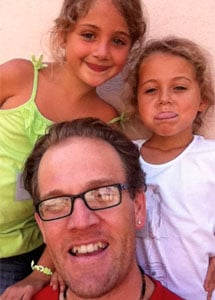 Why did you decide to teach with Cultural Embrace in Italy?
Jeff: I decided to go on the language program because I had spent a few weeks in Italy over Christmas break as a way to see if I would enjoy Italy. After that was quickly decided I thought it would be a wonderful experience to be able to teach there and really get a feel for the country over an extended period of time. This would give me the interaction with the people and culture that I sought. It would also allow to further my own interest in learning the language and allow for "real life" use of what I learned.
Describe your day to day activities as a teacher.
Jeff: We would be picked up everyday at about 8:00 am and go to the school where we were working that week. There were two schools and a baseball camp. After going over the schedule and selecting our supplies for teaching we would set up our teaching space and prepare for the kids. Once everyone arrived we would work through our schedule for the day. I always tried to incorporate using English in a everyday style with the class at least a couple of times a day. We would use different classroom activities like flash cards or crossword puzzles, in addition to that we would often use different style games to help the kids really remember the words and not just how to say them. We would always take a break out side to either play another game or just give the class some time to run around and enjoy their summer. Then after a couple more hours they would go home around lunch time and we would clean up and leave for the day.
What made this experience unique and special?
Jeff: had a lot of experience teaching at various age groups so it was nice to be able to have my own class right away and do things the way that would for me and the class. I feel when I am able to be most like myself in the classroom as I am out of it I can really enjoy teaching the most and this allows the class to enjoy what I am teaching, hopefully, just kidding.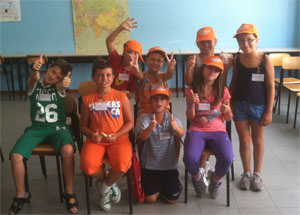 The freedom I had to choose my own activities and schedule made it easy to not have everyone just listening and repeating all day. We could really do a lot of fun activities still based around learning but much more enjoyable to the kids. It was supposed to be their summer free from school work and I always wanted to make sure not only were they learning but also having fun.
How has this experience helped you grow personally and professionally?
Jeff: I was considering teaching in Italy on a more permanent basis and this gave me a really good glimpse into a possible future for myself. I was able to work with a group of kids that I have spent the least time with in my professional teaching background. I found it to be challenging and wonderful in lots of different, positive ways. It was also good to spend a extended amount of time somewhere different then I am used to. Many situations that were regular or maybe even mundane became completely different for me. It taught me to be more understanding about a lot of things that I maybe used to take for granted.