How did you become a guidance counselor with TEFL Worldwide?
Justin: I took an interesting route to get to my position with TEFL Worldwide Prague. I ventured to Prague in September of 2011 in search of a new adventure to take the TEFL Worldwide Prague course. I had a great experience on the course, utilized the job guidance resources that were available, and landed a job during the last week of the course. Then, at one point during this job (which was a stint as a Copywriter for a website based in Prague), I contacted Cheryl, the Managing Director of TEFL Worldwide Prague and told her that if incoming students ever need anyone to show them around, give them some advice on the course, and give them a positive experience in Prague, I'd be more than happy. I love meeting new expats and sharing my knowledge and experiences as a new expat with them. Then, next thing you know, things were stagnant at the website, and the position here at TEFL Worldwide opened up. I jumped on it, and now 6 months later, here I am!
How does TEFL Worldwide Prague stand out from other TEFL programs?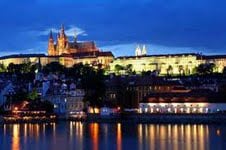 Justin: As a graduate of the program, I can attest that TEFL Worldwide Prague is top-notch. The best way to describe it is challenging, yet very rewarding. The trainers are extremely knowledgeable, the material is engaging, and by the second day, you're already teaching classrooms full of Czech students. You're immersed in a new culture with like minded people, while simultaneously slightly out of your comfort zone, and it's a great feeling.
Why Prague? Well, English teachers are in demand in and around Prague, there is a tight, supportive expatriate community, and you're conveniently located in the heart of Europe. TEFL Worldwide is officially accredited and externally moderated by IATQuO (The International Accreditation of TESOL Qualifying Organizations). We have over 1500 graduates who have taught in 60+ countries and a strong Alumni network, which really makes it stand out.
What job guidance support do you provide to your students?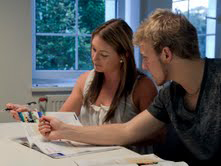 Justin: My job is to not only make sure that the students are well informed of their options, but also to make sure that they're having an overall positive experience throughout the course. Early on, we get a sense of where students want to work, provide access to binders featuring job advertisements and country specific information worldwide, get them connected to our close knit alumni community (who are eager to answer country specific questions from our students), and much more. As I've mentioned before, we have graduates in over 60 countries, but most of our graduates stay here in Prague after the course, which is where we have a very strong connection and reputation amongst potential employers. We know that balancing the course load, job searching, flat searching, and visa searching can be quite a daunting task, but our office doors are always open. And best of all, this job guidance is lifetime!
What are some tips you would give to those considering teaching abroad?
Justin: If you're considering teaching abroad, I'd recommend a few things. First and most importantly, maintain a positive, proactive mindset, be flexible, and be open mindedness. You'll experience everything from culture shock to culturally eye-opening experiences. From difficult students, to students that teach you more about life than any textbook or TV show could - and it's important to maintain the right attitude throughout these experiences. Also, I'd recommend that you do your research on TEFL Certification Programs. Make sure the program is accredited, read up on some reviews and testimonials, and get in touch with recent graduates to see how they're doing. This will give you an idea as to the legitimacy of the program and hey, you may even make a few friends and connections out of it!