Highlights: The highlight of being an English teacher in Prague was working with my students. That may sound cliché but it's the truth. I worked for several different companies including: PepsiCo, Tesco, T-Mobile, Raiffeisen Bank, and many more. The students I had were very passionate about learning English and told me their life stories and vice-versa. They didn't hold back and really trusted me as their teacher. For them it was someone to talk with during a stressful business day while at the same time practice their English. They were generally interested in my life and where I came from which made me feel important. Teaching was not just about standing in front of a class explaining grammar, but also having conversations, whether it was about finance, food, or family.
My overall experience as an expat in Prague was the most enriching experience a person could ask for. The challenges I faced living in Prague were not always easy but nevertheless rewarding and in the end a good story to tell. The highlight of my experience was the community I got to know and the people I became close with. I never once felt alone in Prague which was a worry I had before going there. There is a large expat community there where everyone has at one time or another gone through the same "Czech" problems. The best part is, at the end of the day, there is always someone to talk to over a beer or glass of wine and that person will understand exactly what you are talking about even if you've just met them. After living there for over a year, I know I can always go back and feel like I have a home.
Quick Tip: Traveling outside of Prague is very easy. There are several small towns and villages to visit that are much cheaper than Prague itself and the cost of travel via trains or buses is also very inexpensive. A beer in Prague may cost 32kc and outside of Prague about 15-20kc ( less than a $)
Morning: Every day I would wake up around 6:30AM to get ready for my 7:30-9AM class. That was an early class, but a lot of companies want their employees to have English lessons before the workday starts, so early morning classes were not uncommon. On my way, I usually stopped at "Princess" bakery to grab a chocolate croissant, they were the best in town! I arrived at my company class via the metro around 7:20 and waited for my students to trickle in. The students always offered me coffee or tea to help get my morning going. Once the lesson was over I had a 2 hour break so I would go back home and relax before my afternoon lessons.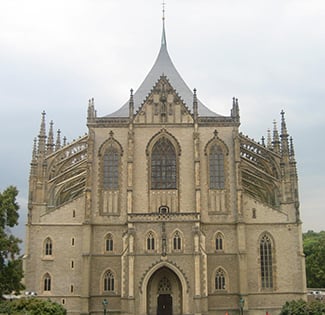 Afternoon: My afternoon classes went from 11AM-2:30PM. I saw these classes 2x a week as most classes were bi-weekly. For example, I would see one class on Mondays and Wednesdays and another on Tuesday and Thursdays. Several of my lessons were one on one during the afternoon or no more than 3 students. I enjoyed my afternoon classes because the students liked to be there and it made their day go by faster as well as mine. Each lesson was in a different location of the city, so I used the metro a lot during the day. The metro was always on time and inexpensive. It's the best way to get around Prague.
Evening: In the evenings I taught lessons from 7:30-9. Evening classes were always held at the language school I worked for. I taught general English and English exam prep courses to anywhere from 3-8 students. I only taught 3 times a week during the evening because I liked to have most nights off so I could relax at home or meet friends at a pub. Once I was done for the day, I would go home and make dinner and watch a movie or TV show. However there was always something going on so if I didn't want to go home straight away, it was easy to go out and meet up with people.