Why did you decide to volunteer with African Impact in South Africa?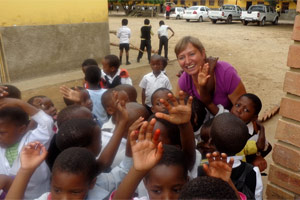 Elsbeth: Eight years ago I made a trip trough South Africa and I fell in love with that country. From that time I decided to be a volunteer one day. But like the most lives, it is not easy to get away for two months when you have a job. When I heard that my job would be over from the first of October, I decided to follow my dream and went to South Africa to be a volunteer. I booked with Activity International and they worked together with African Impact. The reason that I booked with African Impact is because of the different projects that they have so that I could see all the different aspects in the Zulu community.
Describe your day to day activities as a volunteer.
Elsbeth: I lived in a volunteer's house together with about ten other volunteers from different countries. It was a great time. There were volunteers who worked with the children in the crèches in Khula and in Ezwenelisha and other volunteers who worked in the clinic in Khula or visited sick people at home. In the morning we worked from 8.30 till 12.30 and then we had lunch at the volunteers house. After lunch we worked from 13.30 till 16.30. In the afternoon there were different projects for the community, like garbage picking, painting the church, working in the garden, reading books with children in the Reading club, planning activities with orphans at the afterschool club, giving HIV/Aids education for adults and for children at the Primary School, making bricks for a new building, joining the support group where people can talk about their problems etc.
Because of all the different activities you have a good picture how the Zulu people are living. Although the people are poor they always laugh and are very happy when you come. This gives you a great feeling! During the evenings and in the weekend you had free time and African Impact always gives you different options for booking excursions, like a visit to Hluhluwe Umfolozi Park, visiting Isimangaliso Wetland Park, an trip to Kosi Bay or Swaziland, an Zulu night, horse-back riding, an elephant interaction at Thanda Game Reserve, an game drive at Bayete Zulu Game Reserve or a Hippo and Crocodile tour. So you will never had a dull moment.
What made this experience unique and special?
Elsbeth: For me, personally it was a experience for life. Anyone who has the chance to be a volunteer must do it! You meet other people, another culture and you reflected this at your own life. Elsbeth never had a better feeling about a job than being a volunteer. The respect and appreciation what you receive from this people is amazing. You won't forget!
How has this experience impacted your future?
Elsbeth: So, this experience of being a volunteer was so intense that I decided to find a job abroad! You can't change Africa, but Africa can change you!