Why did you decide to study abroad with API?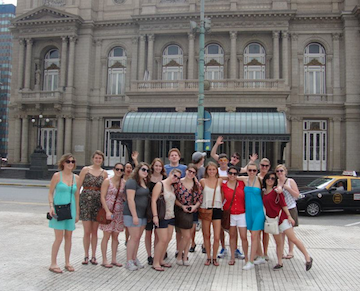 Nicole: API also provided 4 inclusive excursions to different places in Argentina and lead to further opportunities to travel. Iguazu Fall was my favorite excursion. I have never been to Niagara Falls but according to my friends in the program that have, Iguazu was bigger and better. The falls were breath-taking, especially the largest one called La Garganta del Diablo which means "the devil's mouth." With API I also traveled to El Tigre, una estancia or "farmhouse" where we got to ride horses for the day, as well as to Colonia, Uruguay.
I decided to study abroad with API because it was one of the programs offered through my school. It ended up being a great decision because API was an amazing program. Before leaving the U.S., API gives their students access to their online "toolbox" which is a great place to go to brush up on Spanish vocabulary and grammar. Our program director, Carmen, was phenomenal. She greeted us right when we got off our planes in the airport and made us feel at home.
Besides our host families, she was like everyone's mother during the trip and she even hosted dinners at her house on a few special occasions. With API we also had a few days of orientation before we moved in with our host families. We were educated on Argentine history, how to use public transportation, how to stay safe and how to make the most of our time. This was very helpful and allowed us to become comfortable and get to know each other, especially since I know a lot of the other programs did not do this.
What was a typical day like living and taking classes in Buenos Aires?
Nicole: My classes in Argentina were from 9am-2pm for the first month and from 1pm-4pm for the last two months. Typically in the mornings I would wake up to my small Argentine breakfast (usually toast and coffee), which took some getting used to since I am fond of eating a big breakfast. Then I would usually go for a run. I run track in college and conveniently I only lived a few blocks from some great parks where it was easy to run and avoid traffic. During my time in BA I even participated in a 6k road race called the Maraton del Agua. After my morning runs I would get ready for class and hop on the "colectivo", or bus, headed to Belgrano.
Typically in the afternoon I would get my homework done, possibly do some errands, go to the grocery store, go shopping, or even meet up with some friends. Another aspect of the Argentine culture which took some getting used to was that dinner was not typically served until 9 or 10pm. Therefore, I would also sometimes find a local café to eat an empanada or medialuna.
Some of my fondest memories in Argentina were simply talking one-on-one to my host mom at dinner. She was extremely patient with my broken Spanish and helped me learn a lot. The night life in Argentina is quite different than in the US. Since dinner does not start until 10pm, that means that people do not get to bars until later in the evening, and clubs or "boliches" do not even open until 2am. It would not be uncommon for Argentineans my age to stay out until 6 in the morning. I had a few experiences going to different boliches around the city, as well as different concerts held in the area. A particular favorite was La Bomba de Tiempo, a drum concert held every Monday night.
What made this study abroad experience unique and special?
Nicole: What made this study abroad experience unique and special was our close-knit API group of about 25 students. This was much smaller than some of the other study abroad programs that my classmates were in, which were between 80-100 students. I enjoyed our small group because we got to know each other very well and almost everyone got along awesome. Although we all live in different parts of the U.S., I still keep in touch with my friends from studying abroad and we plan to meet up every now and then. I also enjoyed living with a host family. In some of the other programs, students either lived on their own or multiple students were grouped together with the same host family. However, with API it was just one student per family. This was great because we really got to connect with our families and practice Spanish in the house every day. I only lived with a host mom but we became extremely close and we still talk on Skype every once in a while.
How has this experience impacted your future?
Nicole: This experience has broadened my horizons and allowed me to view the world differently. I let myself step outside my comfort zone and take in a new culture, language, history, and perspective on life. The trip made me realize that I would like to continue to travel in the future and definitely return to South America and even Argentina one day. I was able to improve my Spanish skills, and I wish to continue learning the language. Studying abroad was truly one of the coolest and most beneficial things I have ever done, and I highly encourage students who are interested in traveling to Argentina and learning Spanish to go through API!
What was the highlight of your experience?
Nicole: Coming from Rhode Island, the smallest state in the US and having never lived in a city before, I was a little nervous about staying 3 months in Buenos Aires, one of the largest cities in the world and the capital of Argentina. However, I quickly became accustomed to the people, traffic, noise, as well as the hustle and bustle of the city As a matter of fact, I learned to love it. The city is broken up into several unique neighborhoods that all have different histories behind them. Each is full of art, culture, and even dance. I loved how there was always something to do in BA. There are café's at almost every street corner, a variety of different restaurants, bars, museums, parks, markets, concerts, movies, etc. Public transportation was pretty good since you could get anywhere in the city very easily at pretty much all times of the day and night by subway or bus.
My favorite part of studying abroad was not only getting to enjoy the amazing city lifestyle of Buenos Aires, but also having the opportunity to travel to other places in Argentina and even other countries. One of the first trips I took early on in my travels was to Guayleguaychu, Argentina in order to see the annual Carnival festival. During my trip I also traveled to Santiago, Vina del Mar, and Valparaiso, Chile, as well as Mendoza Argentina. With API we also had planned excursions which extended my travel opportunities.
Academically, I really enjoyed the two professors I had as well as our small group of classmates. Although the professors taught only in Spanish, I felt that they talked slow enough and did a good job making sure we understood what they were saying. By practicing every day in the classroom, as well as with my host mom and people in the city, I was forced to use my Spanish and to learn quickly. My one regret is that I spent a lot of time talking in English when I was hanging out with my friends in the API program. With only 3 months abroad, every chance you have to practice counts and you really get out of the program what you put into it.