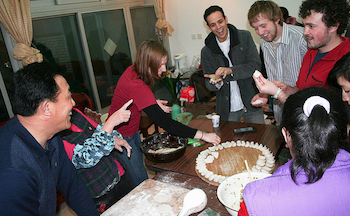 Why did you decide to study abroad with China Study Abroad?
Jonathan: Though I decided that I would study Beijing during a gap year well before I graduated from high school, I didn't get my plans together until a few weeks before I actually arrived in China. CSA was the first organization that I explored on the internet, and it looked like a credible, experienced organization. I contacted the staff immediately and received prompt responses that gave me good feedback regarding the type of experience that I would be having. Another aspect of CSA that made it appealing was the fact that they organized fun weekend activities, etc. to encourage their students to attempt to better understand Chinese culture. They truly wanted us to enjoy our experience, as well as have one that was complete. Therefore, I signed up after a week of pondering the option.
What made this study abroad experience unique and special?
Jonathan: Studying abroad may be considered a relatively common academic experience nowadays, but living with a host family in another country with a completely different culture than you are used to sure isn't! The decision to live with a family in Beijing provided me with the true experience of "living in China." In other words, I wasn't just attending classes and then spending the rest of my time hanging out with English speaking friends in our own little world. Naturally, my family and I had our cultural "misunderstandings" (a polite way of putting it!) but I wouldn't have traded a 5th Avenue penthouse apartment for living with them!
Every day, I would come home to a caring, entertaining family in as authentic a Chinese environment one could ask for. Authentic Chinese breakfasts and dinners, Chinese tv, newspapers, you name it. Listening to and conversing in non-stop Chinese for hours at a time with my family was definitely the best language practice that I had during my study abroad, and I really enjoyed playing with the couple's three year old son as a means of learning recreational vocabulary. Who knew you could learn so much from a little kid who couldn't speak your native language? Living in a hectic environment had never been so enjoyable, and I'm very grateful to have established a great relationship with my family!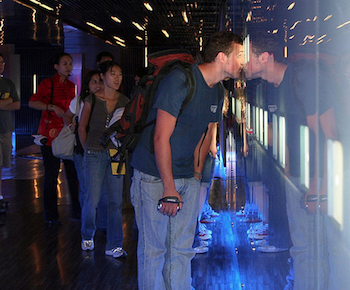 How has this experience impacted your future?
Jonathan: Living in Beijing helped reinforce the value of learning Chinese in a world that is rapidly changing. Different countries are being connected with each other through business, and their economies are expanding extremely quickly. There seems to be no slowing down in China! The one word that I can always put in the same sentence as "Mandarin" or "Chinese" is "opportunity." With a grasp of the Chinese language comes job offers and simply a chance to experience something different by living/working in a different place. Whether it is working for a Chinese financial company in Beijing or helping an American company expand into China, there is always a place for your language skills (English skills are also in high demand, but the ability to speak Chinese as well goes much further). While I may not be a Chinese major in college, I will continue to improve my Chinese for the sake of giving myself flexibility when the time comes to look for a job or even if I decide to spend some time in China in the future. I have experienced this phenomenon first hand, and I look forward to embracing this opportunity in my professional life.