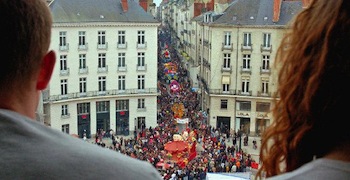 Why did you decide to study abroad with IES?
Elyse: I chose IES Abroad because it was a full immersion program with a home stay and I wanted to improve my French as much as possible. Living with a host family provided a great support system and helped me to better understand French culture. IES Nantes has a great staff that really takes care of their students. The program is a great value. Included are multiple field trips to places like the D-Day beaches and Mount Saint Michel plus other activities around Nantes that are free to IES students like a visit to the famous Machines de L'Ile.
What made this study abroad experience unique and special?
Elyse: My abroad experience was very special. Nantes is not a very touristy place so you don't encounter English very often. As far as I know IES is the only American study abroad program in Nantes. I visited Florence over my Spring Break that semester and it felt like we heard more English than Italian. Everywhere you looked there was an American student. I wanted my semester abroad to be completely different from life at home so I could experience a different life. That isn't to say that I never spoke English. I definitely did with my American friends but if I had studied somewhere like Paris I wouldn't have learned nearly as much as I did in Nantes.
How has this experience impacted your future?
Elyse: My semester in Nantes helped me to better figure out what I want to do with my life. I met some of the greatest people I have ever known and now have friends from all over the US and all over the world. Study abroad gave me an appreciation for how other people live and for travel. I have been all over Europe including Barcelona, London, Venice, Nice, Slovenia, Austria, and many other places and the list of places I want to see gets longer everyday. My semester in Nantes showed me that I am capable of traveling on my own and of problem solving even in a language I don't know. It gave me a lot of confidence and really helped me grow up and change in ways that I wouldn't have been able to do in Minneapolis.