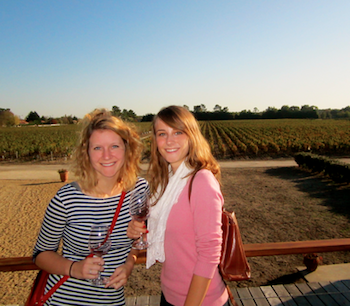 Why did you decide to study abroad with IES?
Katie: I chose IES because they offered a program where I could completely immerse myself in France. I lived with a host family, and Nantes is small enough that I was never immediately mistaken for a tourist! Speaking French and experiencing authentic French culture every day was exactly what I was looking for, and IES helped my dream come true with this program.
Also, IES seemed like a well-established institution with a good balance of academic rigor, familial friendliness, and panoramic perspective on what constitutes a rich experience abroad. I could not be happier with my choice. IES Abroad (especially the Granada program) could not have been more organized, caring, and effective in its operations. The staff is deeply committed to the health, happiness, and growth of its students, and it shines through in the stellar attitudes and the high-quality work that the personnel do.
What made this study abroad experience unique and special?
Katie: I think that my host family made my stay so much better than it would have been otherwise. They talked with me every day to help strengthen my vocabulary and grammar, and I always felt like a part of the family instead of just a guest. Having a family while I was so far away from my parents really helped with homesickness too; because they included me in everything, I didn't feel alone. I still talk with my host sisters on Facebook - we keep each other updated on the latest music across the globe. That's definitely not something you can learn in a textbook!
How has this experience impacted your future?
Katie: I am absolutely a more confident person because of my study abroad experience. Everyone that I talk with is impressed with my language skills, and the fact that I am more responsible and independent is evident in all work that I do. Because I had to adapt quickly to new situations, I can apply that skill to new projects and environments back home. I can appreciate other cultures and customs more, which makes me valuable for companies who have international business. Studying abroad definitely makes me stand out from other students.