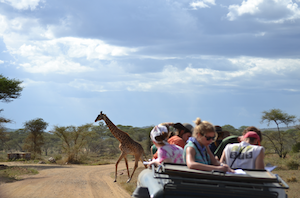 What was the highlight of your trip?
Katharine: The highlight of the trip was hands- down our week- long camping trip to Serengeti National Park. For a week, I lived in a tent with 5 other people, in the middle of the bush in one of the most famous parks in the world. Every day, we would go out on game drives, completing assignments for our Wildlife Management and Ecology classes. Since these assignments consisted of watching a single herd of elephants for as long as we could or recording mating behaviors of giraffes, no one was complaining. After a long day out in the sun, we would return back to camp in the evening, watching an incredible sunset as we drove back and usually having some of our most exciting wildlife encounters at this time. Then, we'd all hang out around a campfire, laughing and eating. Nights were a little scary, since we could hear lions and hyenas making noises right outside our tents, but that just added to the adventure of it all.
What was a typical morning like?
Katharine: The first half of the semester was spent in Tanzania. Typical mornings there meant waking up around 7 to eat breakfast, unless it was your cook crew's turn to prepare food. That would mean waking up an hour earlier with a team of about 5 other students to cook breakfast for about 45 people, including the other students and the staff. This wasn't nearly as bad as it sounds, though- by the end of the semester, people were dreading the thought of their team's last cook crew day. Everyone agreed that their cook crew mornings were some of their favorites memories from the semester.
After breakfast, we had classes until 12- these would either be in the classroom on site, or we would take excursions into neighboring towns and wilderness areas for different assignments. At noon we'd eat lunch, prepared for us by the Tanzanian staff. Even though the food took a little getting used to, it was always delicious and the cooks were awesome about experimenting with what they had to make us 'American' treats sometimes.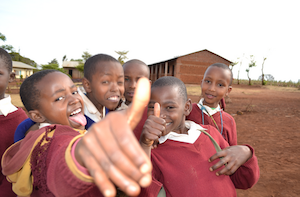 What about a typical afternoon?
Katharine: We had an hour or two of free time after lunch, which we could spend playing volleyball, starting a pick- up soccer game at one of the local schools down the road, or just walking around and exploring the village of Rhotia where we lived. During these times, I made some incredible friends- the people we met were so friendly and eager to welcome us into their village, even though almost none of them spoke English.
We had afternoon classes until 3 or 4, and then more free time until dinner. Again, most people used this time to play sports, especially soccer- those games at the local secondary school were so fun, even though the Tanzanians were so much better than us. There's also a 5- mile dirt road loop around the village that we used as a running trail. Running alongside herds of cattle, goats, and ecstatic Tanzanian kids definitely made it impossible to run on a boring treadmill at home now!
And a typical evening?
Katharine: After dinner, the "Mwanafunzi (student) of the Day" would get up and talk to the group about whatever they wanted- reflections about what we had seen so far, things we missed about home, really any topic at all. Then we would do homework, or sit around the campfire that was always burning and practice our Swahili with the staff, most of whom spoke little or no English. We would go to bed pretty early; we were always exhausted by the end of the day, but in the best way possible.
About once a week, we would go on all- day game drives to national parks. I can't even describe how incredible these days were. Hanging out of the roofs of safari cars with amazing friends, all the while seeing the most breathtaking scenery and wildlife up close, is something I'll never forget. We would also have days off once a week, where we would teach English and practice Swahili at the local school, or visit an orphanage to help with repairs and to play with the kids.
In Kenya, typical days were a bit different- instead of having classes, this time was spent on individual Directed Research Projects. These seemed daunting at first, but doing this project was easily one of the most fulfilling parts of the semester. Students chose different topics based on their interests, completed two weeks of research- which could mean interviewing local people, assessing river conditions, or recording behavior patterns of wildlife- and then spent another two weeks analyzing data, writing their final reports, and giving a huge presentation to local community leaders and policy makers.