What made this study abroad experience unique and special?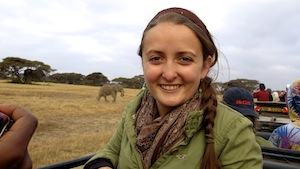 Ellie: My experiences with SFS in Kenya were remarkable academically, culturally and socially. We were able to conduct pioneering research on the closure of a non-governmental health clinic. I was lucky enough to be in the HIV treatment and management group, which was fascinating and highly relevant to my research interests. I was able to sit in on a group-therapy session at an HIV Counseling and Testing Centre and listened to stories from some of the most inspirational women whom I have ever met.
In the last week, we presented our findings to over 60 community members.This was intimidating yet highly fulfilling and exciting! Culturally, we collected data in several rural areas and were able to speak to many Maasai Mamas about issues of utmost importance to them. We also spent an afternoon volunteering with the HIV Counseling and Testing center, making beads and soap with them.
Socially, I can say that, without a doubt, our group was the most cohesive, inspired and wonderful group of people that I have ever worked with. I made friendships that will certainly last a lifetime. Common campfire or car-ride conversations surrounded breaking the cycle of poverty and disease, the social determinants of health, and so on. This program was exceptional and I would attend it again in an instant.
What is one piece of advice you'd give future SFS students?
Ellie: Come to the program ready to be challenged in the best way possible. You will be living very closely with your classmates, faculty, staff and of course, wildlife! You will be exhausted and perhaps a bit frustrated at times, but I promise it will also be the best time of your life. I would recommend reading up Paul Farmer; you will have many discussions surrounding him. Also, courses in statistics, research methods, epidemiology and intro to public health are not required prerequisites but certainly were helpful. Bring your cameras, but spend more time interacting than taking pictures; traveling through lenses can be limiting.
Also, and very importantly, bring speakers, games/toys for kids and active wear; soccer and volleyball until dark were daily activities! My final piece of advice is very important. Every night, be sure to look up at the stars. It might sound cheesy, but the spellbinding stars took my breath away every time I looked at them. If you want more advice or have questions, feel free to contact me!
Tell us about any interesting cultural tidbits you noticed about your country.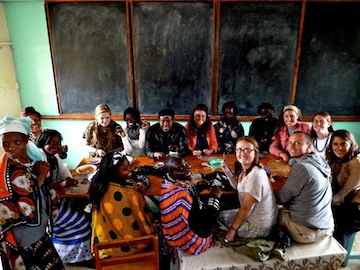 Ellie: Kenyans are the kindest people in the world. Seriously. Wherever you go, you will hear "Hakuna matata" and will be greeted with incredible generosity and hospitality. You will be in a relatively conservative area and thus you will need to dress respectfully. I feel as though I should mention that the SFS staff was entirely Kenyan, except for our Student Affairs Manager who was American. The staff members were absolutely fantastic. They were kind, helpful, resourceful and above all, hilarious! As per usual with Kenyans, I've learned.
You will be working and living with members of the Maasai, who are incredibly kind and generous people. They are still very much connected to their land and animals and are very family oriented. Visiting the Bomas gave us a glimpse into the Maasai lifestyle; while different from ours, they love, laugh and cry the same as we do. Take the time to understand the differences between the cultures, but also the similarities.
Describe your most meaningful souvenir and why you love it?
Ellie: My most meaningful souvenir is without a doubt a ring that I received from a Maasai Mama during data collection. I was out near Chyulu hills with my partner, Naom and our translator, Daniel. This region was very rural and had no cell phone reception, extremely rough roads and was over four hours from a hospital. As the only Mzungu (white person) in the group, I attracted a decent amount of attention. At one Boma (homestead), in the midst of an interview, the Mama grabbed my hand and took a homemade beaded ring off of her finger, putting it onto mine. She jokingly said that we were now engaged. Before leaving, she grabbed my hand again and while patting the ring, asked me never to forget her and to please return. I know that I will never forget this Mama and her immense hospitality and kindness. I wear the ring everyday and think of my time in Kenya whenever I look at it.
Did you run into a language barrier while studying in Kenya?
Ellie: here was a significant language barrier in Kenya. We interacted with Swahili and Maasai speakers and learned bits of each language. Luckily, we had translators for data collection, which was collected in Maasai, and the Kenyans in our program gave us several impromptu lessons and constantly quizzed us in Swahili. While knowing Swahili and/or Maasai would be incredibly helpful, SFS made it work quite well and provided constant support. I would recommend bringing a pocketsize language guide and taking a Swahili course beforehand. However, if you don't, I bet you'll be inspired to take a course when you return home.