What made this study abroad experience unique and special?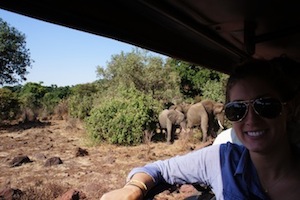 Keela: In my opinion, SFS has an ideal study abroad structure. The group programs allow for personal and group growth throughout the time spent abroad.
I was nervous going into the program because I did not know anyone, but that quickly turned into my favorite aspect about the program.
I learned so much about the regional differences of the United States from my peers, as well as the cultures of the countries I was living in. Naturally, I gained some phenomenal friendships from being abroad as well. It was amazing to be surrounded by people who shared the same passions for the natural world as me.
How has this experience impacted your life?
Keela: Being abroad allowed me the opportunity to have less distractions, all I had to focus on was doing well academically and enjoying my time with my peers. This taught me effective ways to manage my time with my responsibilities at home and ultimately how to manage my stress levels more efficiently. Professionally, my resume has been enhanced by my experience, and has increased my potential employers' interest level at interviews. Academically, it refreshed my attitude about going to school, and reminded me that I truly do enjoy school because of the teaching style that SFS uses. SFS study abroad programs include fieldwork; as well as interactions with local communities allowed us truly ascertain the issues that the local community is enduring in the region.
Tell us about an experience you had that you could not have had at home.
Keela: During my time in Kenya, the United States presidential election occurred. It was experience like no other to be able to see a United States election through the eyes of another country. We were on the way back from our expedition in Lake Nakuru National Park and we stopped to watch the announcement at a small shopping center. After we saw the announcement, we got back into our vehicles and were listening to the radio. My car happened to catch a clip in which the reporter was discussing how Kenya could learn from the peaceful elections that the United States has. It was interesting and enlightening to be able to experience this invaluable learning.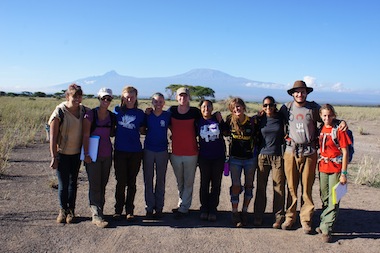 What was the best place you visited outside of your study abroad city?
Keela: Due to the structured program, we generally stayed in the vicinity of our centers, but often we went on field trips or expeditions with our professors. By far my favorite place we visited was Serengeti National Park. We went on an expedition there and spent a total of four nights camping within the park. At night we could hear lions calling and hyenas running around camp, I will never have that opportunity again, and I am so thankful for it. My time in the Serengeti with my peers was life changing, I learned so much about myself, my new friends and about the park system and environment. The beauty of the savannahs reminded me to appreciate my time abroad, and to take this wealth of knowledge I was gaining home with me to make an impact.
What is one piece of advice I would give to future SFS students?
Keela: Having the opportunity to experience a SFS program is something that will always stay with you. I think about my time in East Africa every single day and it always brightens my day. Prior to leaving I was concerned about leaving my family and friends and not being accessible to my responsibilities at home. Upon arrival, I found that I needed to live in the now and not to worry about what was going on at home. To future SFS students, do not miss out on an opportunity now, simply because you are scared of leaving your responsibilities.