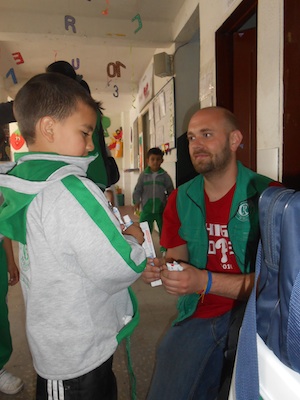 Why did you decide to volunteer with IVHQ in Columbia?
Timothy: I chose IVHQ because they were affordable and I had read numerous reviews that were positive. In addition, through Facebook I was able to get in contact with previous Colombian volunteers who ensured my safety. The reason why I chose Colombia was due to its lack of publicity. While reading through reviews I came across a lot of reviews from Africa, but there was not a lot on Colombia or Latin America. So I decided to change that by venturing to Colombia with intentions of promoting Colombia. Furthermore, the weather is nice and the thought of the Andes Mountains as the backdrop was all I need to know.
What made this experience unique and special?
Timothy: Being that this was the first time I have ever traveled by myself to a different country was special in itself. The staff at Emerging Voices made my experience so special because I could tell that they truly cared about me and my reasons for wanting to volunteer in Colombia. In a way I feel like words can not describe the feeling I felt while in Colombia. With anything you do you get out what you put in. This was true for my stay in Bogota. It was up to the volunteer on how much they wanted to work. There was a white board in the apartment where one could sign up for different projects. Some projects were held in the morning and some were in the afternoon. The project at Soacha was the entire day, Soacha was the project I really felt like I was the most help. I also loved going to Hogar de Maricia, which is an orphanage. While at Hogar we mostly played with the kids and this was quite rewarding.
How has this experience impacted your future?
Timothy: While my trip to Colombia has definitely made me appreciate being American, I will always have Colombia embedded in my heart. If the opportunity presented itself I could see myself devoting my life to Colombia. The people are so amazing and extremely happy for what they have and don't put up a guilt trip. The love I felt was extremely infectious and I can not wait to return for a long term commitment.