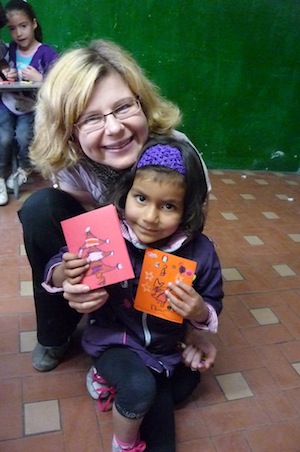 Morning: I usually got up at 7:00 am. A half hour later we started preparing breakfast for all volunteers. That was a very nice part of the day. We discussed plans for the day, joked about each other and enjoyed arepas, fresh fruit juices and other Colombian delicias. At 8:30 am the apartment was empty, everybody went to its volunteering projects.
Afternoon: It was a nice time – after work and before dinner. We talked with other volunteers about the kids, what happened during the classes and how we spent the day. I usually prepared activities for the next day – English lessons for the kids in the school in Soacha close to Bogota or games and ideas for handcrafts for blind kids from the institute in San Cristobal (an impoverished zone of Bogota). Sometimes we practiced origami to show it to the kids on the next day or singing or dancing. We had a lot of fun!
Evening: We used to say that Bogota is like New York – never sleeps ;o). During the evenings we enjoyed the city, went to salsa clubs or bars, or we stayed at the apartments. We played cards, dominos, or other games. That was also the time to talk to friends or family via Skype (there is a 7 hours time difference to Europe), time for reading, watching movies or listening to music, normal stuff…
Highlights: The highlight of my volunteer experience was meeting the blind kids and accompanying them to the swimming pool twice a week. At the beginning it was frightening to me, I didn't know how to act, how to help the kids with changing clothes and everything. They didn't know me so they were shy and distrustful, but with the time they got used to me and we had a lot of fun in the water. I loved to play with them, to laugh and to teach them swimming. They were incredible. Could you imagine swimming in the water without being able to see? I couldn't do it! Seeing the happiness of those kids I was the happiest person in the world.
The highlight of my overall experience was meeting other volunteers, from USA, Canada, Australia, Germany, Italy, The Netherlands… It was a dream team! We had a lot of fun with each other and I was so lucky to have the opportunity to meet them, to work with them and to enjoy the Colombian life with them.