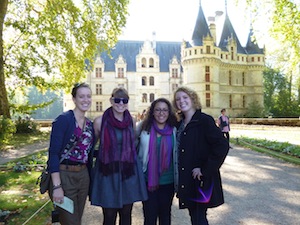 What was the highlight of your trip?
Renee: What I appreciated most about the IES program was the mix of IES classes and classes at the Université de Nantes. The IES classes were great because they allowed me to focus on improving my French language skills while still benefitting from the French classroom style and a French professor. My classes at the university were a bit more challenging than the IES classes but it was a wonderful opportunity to get a true French university student experience. It provided a great insight to French culture and it allowed me to interact with French students where the IES classes were just with other IES students.
I am so happy with my decision to study in Nantes. People from Nantes always say they love it because it's not too big and it's not too small and that couldn't be more true. You really do feel like you're in a city but it's not overwhelming. Nantes is easy to navigate so after a few weeks, I really did feel comfortable and at home in the city. Still, after a semester, I never ran out of new things to do. People in Nantes are very welcoming and patient with non-native French speakers so I felt safe speaking French and making mistakes. By the end of the semester, I was so confident in my abilities. I think achieving that level of confidence in a city like Paris would have been much more difficult but when I visited Paris after a few months in Nantes, I felt so comfortable speaking French and I had a great experience.
Describe your typical morning?
Renee: In the morning, I would wake up and get ready for class. I helped myself to breakfast at my host family's house – typically cereal or yogurt. Depending on the day, I walked about ten minutes to the IES Center if I had classes there, or the nearest tram stop if I was heading to the university. On a good day, I would get ready a few minutes early and stop at my favorite bakery, Boulangerie d'Antan, to get a baguette for lunch that day and treat myself to a warm croissant before class.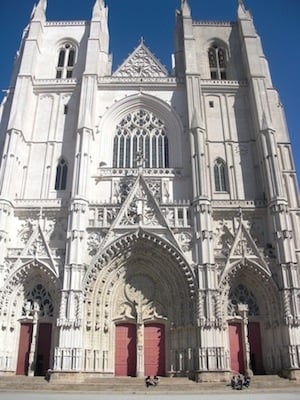 What about your afternoons?
Renee: In the afternoon, my friends and I would walk to the closest grocery store, Carrefour, to get food for lunch. We would usually go on Monday and get groceries for the week which we could keep in the kitchen at the IES center. Some days, we walked to a bakery and bought sandwiches and pastries to take back and eat at the center or, on a sunny day, at a park nearby the IES center or by le Château des ducs de Bretagne. In the late afternoon after class, I would go to a nearby café with friends and have a cup of coffee and do some homework before evening classes.
And evenings?
Renee: On a typical evening, I would come home after class and do some homework until dinner with my host family around 8 or 9. Some nights, I would go out after dinner and meet my friends for a drink in the centre-ville. Once a week, we had a conversation club with French students at the IES center and we would often go out for dinner or drinks after conversation club. If we had late evening classes, sometimes my friends and I would try a restaurant for dinner on our way home from class. My host family was very flexible about which nights I ate dinner at the house. On the weekends, if I wasn't traveling, I would try and visit different parts of the city like l'Ile de Nantes, le marché de Talensac, or le Parc de Procé. Nantes is great because there is always something new to try but there is also always time to return to your favorite spots.