Why did you decide to teach abroad with Adventure Teaching in Korea?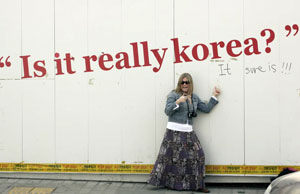 Rachael: I decided to teach abroad with Adventure Teaching because I liked the fact that they help prepare you to go to Korea. There is a lot of paper work that you must do to prepare to teach in Korea. Adventure Teaching helped me get that all together by giving me detailed information on how to go about collecting that paper work, which to collect first, how long it would take, the cost, etc. They also set up interviews for me with schools in Korea. It was very easy preparing to come to Korea because of their help. They really took out a lot of the stress that comes with the beginning process. Adventure Teaching is very organized and the communication between you and the recruiters is excellent. They are constantly touching base with you to make sure that you are doing your part. They are also there to answer your questions and calm your fears.
What made this teaching experience so unique and special?
Rachael: I think the thing that has made this experience the most special is because it has gotten me out of my comfort zone. I have lived abroad before but in a country where I spoke the language and knew the culture extremely well. Before this I really knew nothing about Asian culture or S. Korea. My first day here I wanted to go back home because everything was written with symbols, no one spoke English, no one had a smile on their face, and there were roaches in my room (I'm terrified of roaches). Since that first day my thoughts of this place have changed and I am even considering another year here. The people in Korea have made my experience unique and special. They have been so nice and so helpful. They have given up their weekends to take me sight-seeing, teach me about Korean culture, and have taken me to eat some great food (mmmm Kimchi)! I'm learning a lot about a country I never thought twice about and I'm learning a lot about myself.
How has this experience impacted your future?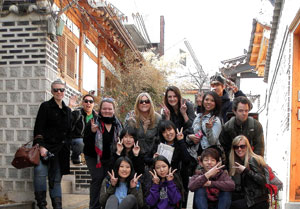 Rachael: I have wanted to teach English abroad for several years now but in a Latin speaking country. I never really knew how to go about doing that. I looked online but everything seemed so confusing and the places I was finding wanted me to pay for a lot of stuff. Teaching in Korea is a good foot in the door. Korea is equipping me with the skills I need to be an effective English teacher abroad. It is preparing me both mentally and emotionally for life in another country. It is also preparing me financially. Korea is one of the best paying countries for native English teachers. I can save up while here so I'll be more financially secure before going to a Latin country that does not pay as well.
What is one piece of advice you would give someone considering teaching abroad in Korea?
Rachael: One thing you will learn about living in a foreign country is that you absolutely, 100%, must be flexible. If you are not a flexible person DO NOT even bother planning to work anywhere outside of your country. You will be miserable I promise. On top of that you will make everyone else miserable. Every country has a different worth ethic and living ethic. If you expect that country to treat you the way you would be treated working in your country I can tell you now it's not going to happen. You must be the one to adjust to the new culture; the new culture will not adjust to you. In fact they will ostracize you and think poorly about you and you may actually be a great person. I am seeing this happen with one of my current co-workers. Just a word of warning.