Why did you decide to teach abroad with Adventure Teaching in South Korea?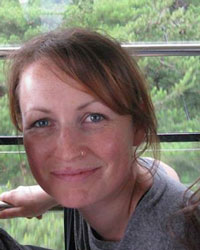 One of my friends had just done two years in SK and talked about it constantly. We were living in a village in North India at the time and conditions were pretty rough so SK sounded like a dream. I figured once I got there, it would be far less exciting and modern than she made out, but it actually exceeded my expectations.
To find a placement, I looked at a couple of recruiters but I liked the way that the AT site was laid out and the fact that they gave you loads of information to prepare you for your arrival. The best thing for me about using AT though, was that they responded quickly and in a personal way. The customer service was the best by far and I felt comfortable with them immediately.
What made this teach abroad experience unique and special?
I have never taught abroad before, however I have lived, studied and worked overseas for most of the last 5 years. This is the first time that I have lived and worked in a developed country and it is also a career change for me so I was not really sure if I would love it or hate it. I had thought about getting into teaching for a while (I was working in not-for-profit) and, now that I am here, I wish that I had made the switch earlier.
The apartments are small but a 5 minute walk from the beach and there are loads of restaurants, bars, shopping malls and parks a short distance from home. I have a dog that I brought with me from India and it is the perfect place to live for that reason, as there are lots of nice walks and other friendly dogs around.
Before Korea, I was living in a spider-infested house in an Indian village so this seems like absolute luxury. I have no complaints.
How has this experience impacted your future? (Personally, professionally, academically, etc.)
Teaching is a lot of fun. I teach at a government run program so, rather than teaching the same kids all semester, I teach every 12 year old in Bussan for one class. This can be challenging as you do not have the chance to build rapport with a class like other teachers but you really get to see a lot of diversity, which keeps it interesting. My school gives us a few free periods a day and we do not have a lot of prep to do for each class so I have time to work on my Korean, etc. which is really nice.
I got into the NGO sector, as I wanted to do a job that was fulfilling but I spent most of my time staring at a computer screen and that was frustrating. With teaching, it feels like you have a much more active role in other people's development. It gives you real tools to inspire, challenge and build confidence.
I am so glad that I gave teaching a shot as I really enjoy it and want to continue with it. I plan on staying in Korea for the next few years to develop my skills and save some money then apply for a Masters of Teaching so that I can teach back home. I enjoy teaching ESL but I would love to be able to teach Geography!
What is one piece of advice you would offer someone considering teaching abroad in South Korea?
The only thing that I have found really challenging is the food. I am a vegetarian and so I have to bring my lunch every day as the free lunches are always packed full of meat or seafood. That really does not bother me too much as the food does not look too appealing but it can be a little anti-social. Just going out for dinner with friends is challenging if you go to a Korean place because even Kimchi is cooked in fish stock. I mostly eat at home and go out to eat at Western-style places.
My tip for any vegetarians or health conscious people is to utilize iHerb - they have $4 shipping to Korea and it is my saving grace for all of the unusual grains, legumes, etc. that are unavailable or really expensive to buy here. They will even ship you over some salt and vinegar chips, which is lovely when you are craving something from home.