Why did you decide to teach abroad with Adventure Teaching in Korea?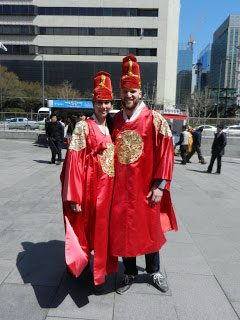 Paul: We (my girlfriend and I) decided to entrust our experience of teaching abroad with Adventure Teaching simply because they were the best communicators. We heard from them in one way or another very regularly. This was the deciding factor for us because with the many uncertainties of moving to an unknown place, you need to have the sense of comfort knowing that you have someone in your corner every step of the way. We had checked out other agencies and they only got back to us when they had an offer for us. That didn't seem very caring. When you are embarking on this journey, you want as many people on your side as you can and that's what we received from AT. Kelly, our placement coordinator, was amazing. It didn't take long for her to feel like more of a friend who we had just never met in person before because we seemed to talk on a regular basis. This may sound like a simple answer but sometimes it is the really small details such as this that make the biggest difference in the world! Our final decision came down to trust and that trust came through the level of AT's communication!
What made this teaching experience unique and special?
Paul: Each person's trip is unique and AT likes that! They enjoy that no two experiences are going to be the same. They knew our trip was going to be unique right from the get go. We had our check list in mind of what we wanted and it was AT's priority to make it a reality. They continuously found offers but when they didn't meet certain criteria on our list, they were EXTREMELY understanding and VERY patient with us. What they did for us was they helped us get extensive interview experience. With each of our offers that we knew didn't meet our criteria; we took the interview to talk to new people and to answer different interview questions. When we found the job that met all of our needs, we were more than well prepared. We had answered a wide variety of questions and were confident in what we had prepared and what we offered as a couple for this new school. We found getting placed as a couple wasn't the easiest thing to do but AT made it happen. We now live in Cheongju, South Korea and we love the people, the country, and the culture. Remember to make your trip your own! You are a unique person, why shouldn't your trip be? AT will treat you like a new case, not like the last one!
How has this experience impacted your future?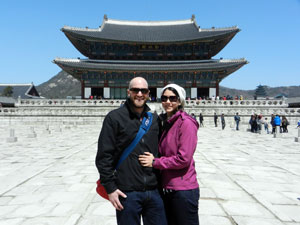 Paul: Personally, this experience is a game changer. When you leave everything familiar behind and you set off for an adventure that leaves so many questions unknown it really makes you grow as a person. This experience has sky rocketed my maturity level. When you come to a different culture, you have to learn to adapt and be respectful of the culture that has now embraced you. Professionally, I have always regarded myself as having a great work ethic but Koreans work harder than any person I have ever known. They have a level of commitment to their work that the whole world should mirror. This experience has given me an edge I feel that will help me in my future endeavors. Coupling my greater maturity levels and my even great work ethic, I am looking forward to taking on whatever the future has to offer!
What is one piece of advice you would offer something considering teaching abroad in Korea?
Paul: The big thing about preparing to come teach in Korea is having an open mind. That is the best piece of advice I could give anyone. You can read all the books and ask all the questions you want and yes that helps, but you don't have everything under control until you spend some quality time here! Be prepared by asking questions and doing researching, but be prepared to experience life's elements and take each one head on with an open mind. Korea is a very welcoming country and the people will embrace you, but you have to be willing to do the same. The culture wants you to embrace it! It is inviting your English language and in return it wants you to embark in its beautiful landscapes, its delicate cuisines and its very rich and historic culture.