Why did you decide to study abroad with Sol HS Abroad?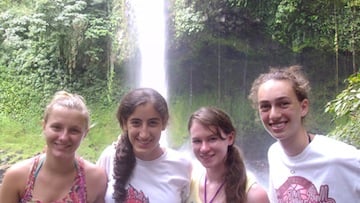 Talia: In short, the itinerary looked great and the price was very reasonable. I had finished my third year in Spanish and was looking for something to prepare me for AP Spanish. Costa Rica has a reputation for having a very pure form of Spanish, which was actually really helpful in retrospect. My family and I also knew that Costa Rica is a very safe country and ideal for vacationing. While there were several programs to chose from, in the end, Sol Abroad offered an experience that offered the entire experience. I went to class, I stayed with a host family that only spoke Spanish, I made like-minded friends, and got to experience life as a Costa Rican!
What made this experience unique and special?
Talia: Everything was truly special. That sounds very generic and trite, but it's true. I made several new friends from around the U.S. who were my age, I saw one of the most beautiful environments in the world, greatly improved my Spanish speaking skills just within the three weeks I was there, and I gained a new perspective on the real life of a Costa Rican family. The excursions were a fantastic component to the trip because it allowed us to see not just one city, but several different aspects of the country. It's hard to put into words the way I felt after the trip. I guess the best word would be depressed because I really wished I could have stayed there for a longer period of time. Three weeks was not enough!
If you could do-over one thing, what would it be?
Talia: In all honesty, I have no regrets. My trip was fantastic and nothing went wrong. Maybe I would have gone for a longer period of time to try to get as close to "fluency" as possible. I probably should have taken less sweatshirts and pants and more clothing for the hot, humid climate.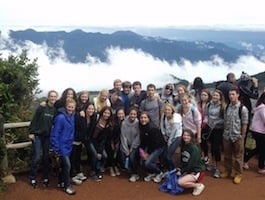 How has this experience impacted your future?
Talia: I knew I loved the Spanish language before going on this trip (that's one of the reasons I did go), but it helped make that passion even greater. I hope to integrate my Spanish skills and global perspective in any occupation I have as an adult. I would like to go into healthcare and since I currently live in Southern California, the Spanish speaking population is a huge factor in the industry. Having that knowledge gives me an extra edge that other potential job seekers might not have. I am also planning on either double majoring or minoring in Spanish or Latin American studies once I get to college. I know my trip to Costa Rica has had a huge impact on who I want to be and what I want to do as an adult.