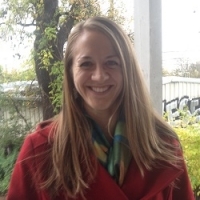 What position do you hold at Sol Education Abroad and why do you like working there?
Alison: Because Sol is a small company, we all wear many different hats, but my official title is Academic Coordinator and Recruiter. Working at Sol is comparable to hanging out with your friends all day and still taking care of business. Our work environment is very family-style; we are a team.
Unlike the corporate business model, Sol encourages and supports the importance of managing our individual health (mental, emotional, physical, spiritual, etc) because without a healthy team, we all suffer. If one of us has to take leave for whatever reason/length of time, we never have to stress that the rest of our team will step up to take on the duties of that person and support them until they are able to return to work. These ethics are always in place. These ethics ARE Sol.
How does your organization differ from other ones in the industry?
Alison: Sol is one-of-a-kind. With a team at headquarters that is über dedicated to traveling across the US in order to share with future participants the value of Sol programs, and four teams abroad who are passionate about bringing our mission and purpose to fruition, our organization inevitably succeeds and grows year after year. We are strong advocates of accessibility for all; hence the fact that we work hard to keep our prices as the most affordable in the industry without compromising the quality of our programs. Our staff's dedication to participant success is immeasurable. At Sol, participants have a voice, and we listen.
What is one thing you would tell any future participant?
Alison: When advising participants, the point that I emphasize most is to keep an open-mind while abroad. Entering a new place, whether for the first or tenth time, will inevitably provoke our subconscious ideals. As a result we begin unknowingly creating expectations that attempt to bring our experience abroad closer to our known past experience (usually of our home country/culture). This is when you see participants begin to express distaste regarding their experience abroad, also known as a stage of culture shock. If participants are encouraged to keep an open-mind and consider the possible stages of culture shock before going abroad, then their ability to maintain cognizant awareness and manage these stages will be strengthened exponentially; therefore, resulting in an enjoyable, life changing experience.
What do you find most fulfilling about your interactions with volunteers?
Alison: Interacting with participants IS the most fulfilling part of my job! Sol exists FOR the participants. The number one commonality that exists among all Sol staff is that we have all had experiences abroad that changed our lives, and we want to share the love! We strive to create programs that are even better than what we have each personally experienced. As a mentor/advisor to Sol participants, I am rewarded the opportunity (daily) not only to teach, but to learn from each individual who becomes a Sol-mate. Our participants come from a diverse spectrum of backgrounds, which inescapably invites us each to learn from one another, participants and staff alike. It's a beautiful thing, really.
What would you tell a parent who's reluctant to send their kid abroad?
Alison: The most important fact to consider when talking to parents is that they know their child best, and we completely acknowledge their reluctance. From here we then maintain a transparent, open conversation about the details of their child's opportunities abroad, which includes asking the parents just as many questions about their child as they might ask us about the program.
The reasoning behind this approach is to be sure all parties are aware of accountability and demands of the program. Our team is always up to speed regarding current events in our program locations. We have no reservations when discussing this with parents (and participants) as it is very important that they are alert of such details before signing up so as to avoid unwanted surprises when possible. The bottom line? We care greatly for our participants, and we have the alumni to prove it!