Why did you decide to intern abroad with Adelante Abroad in Madrid?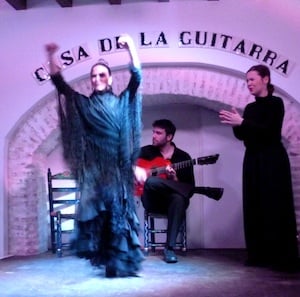 Sophie: I decided to intern with Adelante because I was looking for an internship in psychology and social work, and after finding no luck in my own city (London) I found this guarantee of a work placement through Adelante, with the added excitement of it being in a foreign country. I needed to learn Spanish fairly intensively in the 6 months prior to the internship, but I found it was excellent motivation to learn another language – another fantastic life skill.
What made this internship experience unique and special?
Sophie: The price was very cheap considering how much I received. The first two weeks included a 40-hour Spanish course in small classes of up to 10 people. These were very enjoyable and had a great teaching environment. The accommodation was brilliant – I could not have stayed more centrally within Madrid and the apartment was very spacious and clean. You get used to the street noise after a while! After those two weeks, you were granted complete freedom to organize and debate your work schedule with your internship boss, and do whatever you wanted in your free time – so the experience is completely what you want to make of it!
How has this experience impacted your future?
Sophie: I have experience in living on my own and being completely responsible for myself. I tried out two internships during my 4 month stay – one better than the other. I have received contacts within the psychological field that I can call on for references and even future work alongside having great experience in both the private practices and government funded youth centers. This information will help me guide my future job searching as I have a clearer idea of what I do and don't enjoy. Not to mention how much my Spanish improved! I now also have a second language that I enjoy speaking and will definitely continue studying now that I am home. I also feel I am a more worldly and self-confident person because of the trip.
What is one piece of advice you would offer someone considering interning abroad in Madrid?
Sophie: The internship is completely what you make of it. So it's up to you if you have a proper cultural immersion and do lots of things, or if you stay in your room and speak to friends on Skype. It is really easy to fall into an international crowd and spend the whole of your time when you are not in work speaking English. But you might regret this when you get home. Try to make friends who speak Spanish – it will be difficult at first but will get easier and you will feel like you are making the most out of your experience. They will also be the ones to ask for the best tapas bars and places to go that aren't a tourist trap. Say "yes" to every opportunity. I discovered that I enjoyed Swing Dancing will I was in Madrid, and I'm going to continue with it now I'm home. So try make the most of every day and do as the Spaniards do!