Why did you decide to intern abroad with Global Experiences in Florence?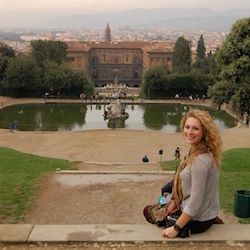 Katie: I decided to intern abroad with Global Experiences for a few reasons. I received 12 credits toward my university graduation from my internship and language class in Italy, which was just as many as I would have taken at home, so going abroad wouldn't delay my graduation. I had also heard a lot of positive things about the matchmaking GE does between intern and employer. I wanted to gain some professional experience to accompany my studies and knew that GE would be able to make that happen. Before, during and even after my time abroad GE provided support every step of the way. It was awesome to have a GE employee as an on the ground contact in Florence because she was knowledgeable about the cool things to do and see in the city as well as being there for me if needed guidance concerning my internship.
What made this internship experience unique and special?
Katie: My experience interning for FlorenceForFun, a student travel agency, was really unique and rewarding. I had numerous responsibilities including blogging, trip preparation, enrollment, location research and social media marketing. It allowed me to experience different parts of the business process and not just journalism specifically.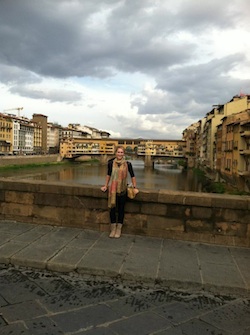 When I was thinking about my future career ambitions before going abroad, I wasn't set on one specific thing so it was awesome that GE paired me with an employer that allowed me to explore various aspects of the company. I was also able to travel with other employees on various trips to other parts of Europe to gain some hands on experience. My supervisor and co-workers were very friendly and the office environment had a collaborative team atmosphere.
How has this experience impacted your future?
Katie: From interning abroad I grew not only professionally, but personally. It was my first time overseas and I overcame culture shock, language barriers and cultural differences. I left Italy feeling more independent, confident and open and adaptable to new situations. There was no better way to fully immerse myself in a completely new culture than to live and work in Florence. I also took a lot away from the relationships I made with students from all over the country. I loved how with GE I wasn't going to be living with all Americans. I can't put a price on the knowledge I gained from the cultural diversity I was surrounded with on a daily basis.
What is one piece of advice you would offer someone considering interning abroad in Florence?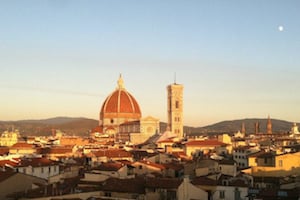 Katie: I would tell someone who was considering interning in Italy to have an open mind. Nothing in life is going to be exactly what you expect or how you would ideally have it, but you're going to get out of it whatever you put into it. Make the most of your time there by trying your best to use the native language, listen to your supervisor's advice, share ideas, try things you might not try at home and greet everyone with a kiss on the cheek just as the local Florentians.