What position do you hold at AIFS? What has been your career path so far?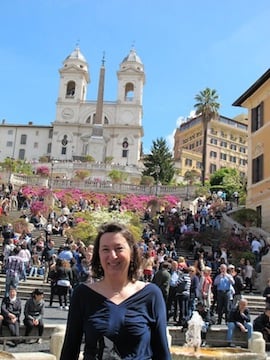 Rosanna: My role with AIFS is that of Resident Director of the Rome Programme. I have been in this position since 2001. I started my collaboration with AIFS, totally by chance, in the early 90s'. I was living in Florence at the time and I was a teacher of Italian Language L2. I left a copy of my CV at the AIFS office and the moment I stepped in they were desperately looking for someone available to accompany the students on a day trip the next day. They asked if I would be availabe and I accepted, so that's how I started.
After that daytrip I got a summer job working in the office and helping with social & cultural activities. One day the cook was sick and no one was availbe to substitute her, so I brought the students to my place and taught them how to make spaghetti al pesto and bruschette al pomodoro. t was so much fun! After that I finally got to teach Italian language classes. But it didn't last long as the following year they asked me to work in the library. In 1995 I was hired with a full time contract as Coordinator of Social and Cultural Activies and Director of the Summer School, Volunteer and Internship Programs.
Did YOU study abroad?! If so, where and what inspired you to go?
Rosanna: I studied abroad several times for periods of different lenghts in the UK, France and Spain. My first experience was in London, I was 16yrs old and had not travelled anywhere without my family before.That summer provided me with the most empowering and life changing experience of my adult life. I was the single child of two teachers, grown up in a small town in the mountains with a very traditional education. Studying abroad in London was the trigger of a never ending appetite for new challenges, ideas, comparisons. The taste of freedom, first of all. The excitement of making new friendships, discover different ways of living, eating, dressing and being able to go back home and bring a all this richness with me!
Why is language learning and cultural immersion important to you?
Rosanna: Language is the key to understand a culture. Learning a second language means acquiring a second way of thinking, a second way of living. Words shape reality, it is only when we are able to name feelings, objects, impressions that we know them. How can you translate the Italian "bella figura" without acquiring an understanding of the Italian obsessions and idiosyncacies for appereance and form. And how could one live, do business, socialize successfully in Italy without being familiar with these words and concepts?
What is the best story you've heard from a return student?
Rosanna: The best story I have to share is about an Italian family that was looking for an American student to tutor their daughter - a teenager in open conflict with school. It's an Italian family with strong catholic, conservative values. I ask around and post a note on the bulletin board and the only student interested is a tall, big guy, with tatooes and piercing like a rock star. I deem the match impossible and tell them both no. But the family insists and the student is so eager to take advantage of the opportunity, that I give up, introduce each other and let things go. I go on vacation, and just before leaving my student tells me that he's going on vacation with the family for a month in southern Italy. I have nightmares the entire summer and feel responsible for all sorts of threats for the little fragile naive teenager girl. Until Fall semester starts and I discover that the big American guy and the little teenager with her Italian family have had a great summer together. The girl retook and passed succesfully her English exams, her schoolmates stopped mocking her and a long lasting friendship was born and still continues via skype.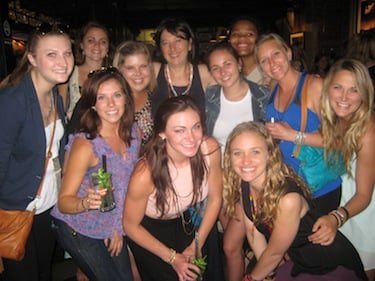 What does your home-country's culture value that is taught in your program?
Rosanna: Students in our program learn to appreciate and include beauty in their everyday life. They get used at the incomparable pleasure of living among masterpieces of art and architecture that time has gently harmonized, layer over layer, century after century. They learn that it is possible to reach a destination walking through many different paths, and they also learn that sometimes it is not waste of time to stop, and change direction, and look up. As by doing so they discover new jewels, new perspectives on landscapes or skylines and see the same city under a different hue, or a different perspective.