Why did you decide to study abroad with TEAN?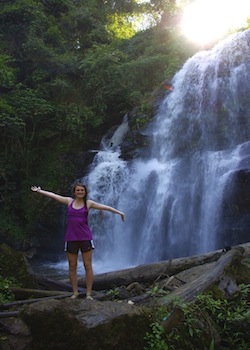 Brynne: Once I was set on the location, I researched a handful of programs that were offered throughout Thailand. I was instantly drawn to TEAN because it stood out from the other programs I was looking into. What makes TEAN so unique is that it provides its students with a fantastic balance of structure and independence. You are guaranteed housing and have planned (included) activities throughout the semester, but you are still able to do things on your own without feeling overwhelmed. I also loved the Thai roommate component that this program offers.
TEAN pairs each student with a local university student to not only help orient them around the city, but to provide them with an authentic inside-look into their amazing culture. I really, really loved this; we all became so close with each other over the course of the semester and really became a small, international family. Another huge draw to TEAN was the cost of the program as well as the activities and excursions that are included throughout the semester--spending a day in an elephant nature park, taking an organic Thai cooking class, touring the crazy city of Bangkok and more. TEAN packs in a variety of amazing activities that make for an unforgettable, life changing semester abroad.
What was the best place you visited outside of your study abroad city?
Brynne: It's hard to choose! I went many places in Northern Thailand and even to neighboring countries, including Vietnam and Laos, but I'd have to say my favorite place was a small town in Northern Thailand named Pai. It's known for its backpacker scene, but people from all over Thailand and other parts of the world visit there. It's nestled in the mountains of Northern Thailand and has some seriously beautiful surrounding scenery including rivers, waterfalls, and the infamously vibrant green rice fields. It was my favorite place not only because of its natural beauty, but because of its extremely friendly and laid-back atmosphere--I met some amazing people during my stay here!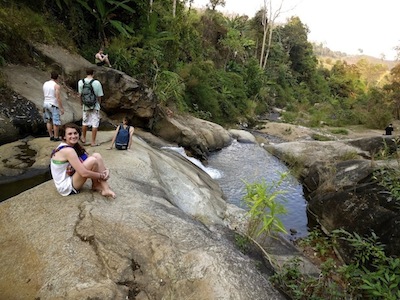 What is one piece of advice you'd give future TEAN-Thailand students?
Brynne: I would absolutely recommend taking advantage of the volunteer opportunities that TEAN offers in this program. Some of these include teaching English to novice monks or helping out at a local orphanage. I decided not to volunteer while I was abroad, and, looking back, I really regret not doing so. Some of my friends in the program volunteered at a monastery and claim it to be a truly life changing experience.
Describe your favorite must-have food that you tried abroad.
Brynne: Khao Soi! It's a Northern Thai curry that is very difficult to find in the South, so I definitely recommend that people try it whenever they're in Northern Thailand. It's a spicy yellow curry with egg noodles, meat of your choice, and mixed veggies with crunchy wontons and a sprinkle of cilantro on top. I crave it every day! You really can't go wrong with Thai food.