Highlights: Let's start by saying that I love to eat. As the French would say, I am very "gourmande." So, most of my best experiences involve food. The highlight of my trip--food-wise--was the 2 weeks where I ate truffles every night. My host mom and her friends hunt truffles and this year happened to be a good one. I was lucky enough to eat truffles in every way, shape, and form while meeting all of Anne's friends (who were dying to come over for a taste). In my opinion, the best experiences are often had at the dinner table.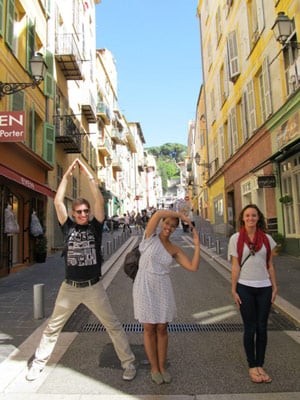 The second highlight of my trip was meeting a young french couple through language exchanges at the Bookworm Café. They have been so helpful this entire trip: showing me around Grenoble, taking care of me when my host mother wasn't in town, listening to me when I felt homesick or lonely. They have become such close friends and are what I will miss most about France. My suggestion to anyone studying abroad: get to know the locals!
Morning: In general, I have class at either 8:30 am or 10:40 am. I wake up about an hour before class and have breakfast with my host mother and her two cats. Breakfast usually consists of tea, coffee, bread, and jam. Occasionally, my host mother buys croissants or pain au chocolate as a morning treat. I leave myself enough time to head over to the Les Halles market to buy my lunch. This is hands down the cheapest and most delicious lunch option. You are guaranteed fresh fruit and vegetables and can pick up some bread at one of the many bakeries surrounding the market. I spend about 3€ total (on campus you can get a sandwich for that price). Since I live in centreville, I catch the tram to school. The tram ride takes about 15 minutes when there aren't strikes. However, some of the most interesting mornings have been the ones during which there are strikes!
Afternoon: I usually have one or two culture courses in the afternoon--history of art, literature, contemporary history, etc. So, on weekdays, my afternoons are spent on campus. After classes, there are still a ton of things to do. Sometimes I go to the Dauphinois Museum to check out an exhibit or I study in Parc Paul Mistral. Most of the time, you can find students at bakeries or cafés getting an afternoon snack. I have some friends who would take the afternoons off to go skiing or hiking in the mountains. I often spend my afternoons with one or two friends, discovering a new eatery or hiking the Bastille (it's amazing every time).
Evening: My host mom gets home at around 7pm every night. We usually catch up over a glass of wine--talk about our days, what I'm learning, etc. After that we eat dinner, which usually consists of a salad course, a main dish, cheese course, and dessert. This is my favorite part of the day: Anne is a great chef. She loves to cook and goes all out despite working full days. We like to watch the news as we eat so we can discuss current events. She loves having people over; 2-3 times a week we have guests. I get to meet all kinds of people and we talk,eat,drink,and laugh until the wee hours of the morning! It's at the dinner table that I've learned all the expressions and sayings that I know.
Over the weekends, I eat with Anne and go out with french friends or other CUEF students. There are plenty of bars and discothèques and they are great places to go if you want to meet french students.