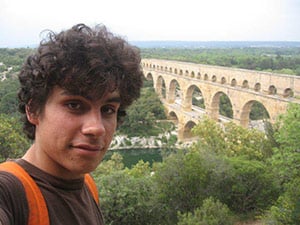 What position do you hold at API? What has been your career path so far?
Patrick: I am the Program Coordinator here at Aspire, which is the high school and gap year division at Academic Programs International (API). My role encompasses a number of different responsibilities, but for the most part it involves talking with high school students (and sometimes their parents) who are interested in studying abroad. When someone expresses interest in one of our gap year or summer programs, either online, over the phone, or at any one of the fairs we attend throughout the year, I'm their first point of contact. I tell them all about our different programs, and help them determine which would be best for them according to their interests. I also maintain Aspire's blog as well as our Facebook, Twitter, and Pinterest pages, in order to keep our followers updated with the latest news.
I got involved in international education while I was still in college. After spending a semester studying in Grenoble, France with API, I had to tell everyone and anyone who wanted to learn French that Grenoble was the place to do it. I worked for my university's study abroad office throughout my remaining two semesters, making classroom presentations, attending study abroad fairs, and encouraging other students to go abroad any other way that I could. I began working for API right after college, and here I am today.
Did YOU study abroad?
Patrick: I studied abroad in Grenoble, France for a semester—it was one of the greatest experiences of my life!
My interest in French language and culture grew out of a general interest in my heritage: my mom's side of the family immigrated to Canada from Honfleur, France in the seventeenth century. I studied French all throughout high school and college in order to learn more about that part of my family history. When the time came to actually go overseas in college, I knew that I wanted an experience that would allow me to become completely immersed in the French language and culture. I thought that a smaller, more intimate setting would be the best way to get that, and I was right: with my amazing host family, friendly locals, and the beautiful French Alps in the distance, Grenoble proved to be the perfect place for me to develop my skills.
What does the future hold for Aspire - any exciting new programs to share?
Patrick: Yes! We are thrilled to announce two new summer programs this year in Dublin, Ireland, and Buenos Aires, Argentina. In both of these programs, students will be able to experience the music, dance, food, and other aspects of the local culture firsthand. We're also excited to be branching out into the world of community service this summer, with two programs in Costa Rica and China! The main focus of both of these programs will be service work, however students will also get to practice the local language and see the plenty of attractions during their time abroad. Finally, we'll be offering gap year and gap semester programs in a number of new locations: Buenos Aires, Argentina, Paris, France, Seville, Spain, and Dublin, Ireland. I am so excited for the spring to begin—that's when we'll be traveling to schools around the country, spreading the word about all our programs to students and parents!
What about the future of the industry? How do you think study abroad and international education will change over the next 10 years?
Patrick: With the forces of globalization becoming more and more self-evident every day, I can only conclude that the international education industry is going to grow over the next 10 years. In today's world, students of all ages need to study abroad, so that they can become more culturally sensitive and gain a larger perspective on world events. And that's one of the reasons why I'm so excited to be working with Aspire. Through our gap year and summer programs, we're helping high schoolers get a real taste of the world around them while they're still young. Hopefully, their experience with us is just the first in a lifelong process of intercultural learning and global exploration.