Why did you decide to study abroad with Na'atik?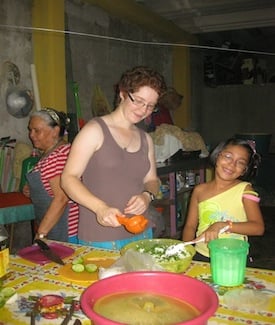 Sophie: I work with a lot of Mexican patients here in the US but had never actually been south of the border, so using my last free summer to get to know Mexico a little better was an obvious choice. I'd managed to pick up a basic level of Spanish on the job, but I was very aware of how much more I needed to learn and I wanted to focus on doing that while I was in Mexico. I started searching online for Spanish language schools but wasn't very keen on the tour-package style programs in the big cities as I generally like to travel more off-the-beaten-track than that.
I found Na'atik pretty much completely by chance and I am so happy I did! They're based in a rural area of Quintana Roo where there were a grand total of five gringos in town while I was there, myself included, so there were tons of people to practice my Spanish with. They're also primarily an English school for local kids and with my background in teaching ESL that was a perfect fit - going out to a tiny village in the rainforest to help teach English was one of the best bits of my trip! This also meant I was the only Spanish student there so the classes were one-on-one and tailored to exactly what I wanted to learn.
How has this experience impacted your future?
Sophie: Linguistically, I learned miles more in the month I was there than I could ever have hoped for and now I finally understand most of what my Spanish-speaking patients are trying to tell me which is great! Even more than that, I learned so much about Mexican culture, history, and politics from my host family and the local staff - even if political humor did prove a little above my Spanish understanding capabilities! My host family there was also so incredibly welcoming that I feel like I now have a second family - in fact, I'm already looking for a time when I'll be able to go back and visit.
What is one piece of advice you'd give future Na'atik participants?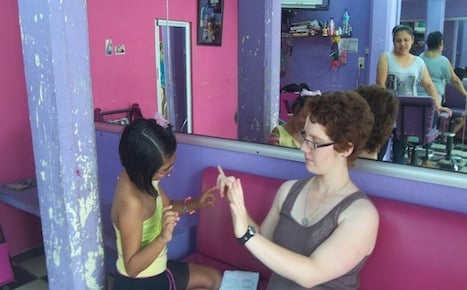 Sophie: Rent a bike while you're there and explore on it as much as possible. The folks at Na'atik will happily find you one and pretty much everywhere in town is easily accessible by bike so it really lets you see the whole area. I also found I got lots of opportunities to talk with locals on my bike rides - one stop to pull out my water bottle turned into a nearly hour long discussion about the history of Mayan culture with an older Mayan gentleman that I'd said hello to as I rode past. The folks there are amazingly friendly and the town doesn't get many tourists so you'll get lots of questions about what you're doing there and these can turn into great conversations.
Describe your favorite must-have food that you tried abroad.
Sophie: Oh wow, this is an incredibly difficult question to answer because everything was so good! I don't think I've ever eaten as well as I did with my host family. On my last weekend though, a bunch of extended family were visiting and my host grandmother made up heaping platefuls of carne asada. I've already tried to replicate her marinade twice since getting home but apparently I don't have the magic touch - hers tasted like heaven!