Highlights: The academics in Wales were a bit different to what I was used to in the US. Many of my classes consisted of just lectures and our take home requirements were mostly reading and writing essays. Because of the difference in the US school schedule and that of Great Britain, we were given the opportunity to complete our final exams earlier than the other students. All of my finals included writing an essay or reflection on what we had learned in the class. My favorite part of the academics in Wales was being able to study along side Welsh students. In some of my classes, the professor was Welsh, and oftentimes, the Welsh students would ask questions in Welsh and the teacher would answer back in Welsh before translating for the rest of the class. I found this very fascinating and exciting!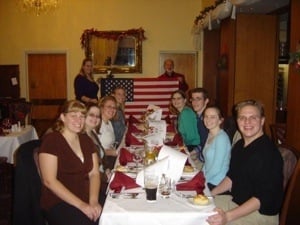 The highlight of my trip would most likely be my opportunity to participate in an outdoor pursuits class provided through our program. I was able to take part in activities I never thought I'd be able to, especially not in another country! My favorite activity was sea cliff traversing. Sea cliff traversing is when you climb across the sea cliffs right above the ocean. A bit like rock climbing, because you have to find footings and hand holds but at the same time very different. There were parts where you had to cross through the water and swim and other parts where you head to time your jumps so that a massive wave didn't hit you. Being able to immerse myself in the beauty and nature of Wales was an amazing experience!
Morning: If it happened to be a school morning (which fortunately, was not very often!), I would wake up and get ready for the day. The ensuite bathroom was a treat to have, but was also very small. When you showered, you literally ending up taking a shower in the entire bathroom! It took about 5 minutes to walk through town for my classes at the university. The walk was beautiful! Except when it was raining, then it was horrendous (a lot of rain in Wales, but when it isn't raining, it is spectacular!). My breakfast almost always consisted of toast and Nutella spread... and yes, you can get sick of Nutella!
Afternoon: Most days consisted of a lunch of potato and leek soup (leeks are the national vegetable of Wales) and a grilled cheese. Once the semester was a couple of weeks in, I would take the afternoon to work on essays and do some reading. Many of us in the group would get together and plan for our next excursion or night out.
Evening: Bangor has many different pubs to choose from. Most of our nights out were spent gathering in the communal kitchen, making an "American" dinner (usually nachos or tacos) and preparing for the night. We usually ended up somewhere on High Street, either at the Varsity (a favorite place for many of the students) or the Kings Inn. We also frequented the Belle Vue which was just down the road from our dorms.