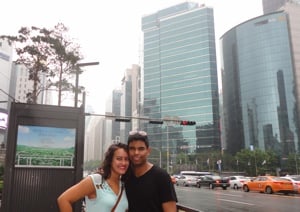 Why did you decide to teach abroad with Footprints in South Korea?
Ruben: I decided to teach abroad in South Korea because I was looking for a way out of my cubicle job, working set hours and a boring routine. It was my first job out of college and I knew fairly quickly that I wasn't set for that lifestyle. I wanted to travel and explore my possibilities. I began to research jobs abroad and found the Footprints website that provided a lot of information. It didn't take long for me to be certain that teaching was the perfect opportunity. Footprints' website is very informative and the staff is extremely helpful.
South Korea was my first choice because of the benefits. Korea is a modern society with all the comforts of home. I was able to save money, live comfortably and take holiday trips to nearby countries. Every English teacher will have his/her own unique experience but overall the feeling is that we don't want to leave! Teachers are well-respected in Korea and also very well paid. Other benefits include great health insurance, free housing, and employers pay our flight to Korea and back home when our contract ends. I really couldn't ask for more.
What made this teach abroad experience unique and special?
Ruben: Teaching abroad is special simply because you're abroad. You're in another country, experiencing a different culture, a different language a different way of life. Apart from this, I think the people I've met and the experience of teaching have made it even more unique. The English Program in Korea made meeting people very easy. During the nine day orientation, I had the chance to meet people from all over the world. Everyone is so friendly and down to earth, I met so many people that were in the same exact situation I was in and sharing that experience was already one way to connect. I have friends now that I'll be in touch with for the rest of my life.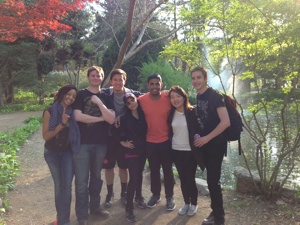 Also, I live in a small town where there are only 17 other English teachers. I'm lucky to be in a tight-knit community. Everyone knows each other and we're like one big family. We all count on each other, go on weekend trips and gather once or twice a week for dinner.
Teaching is another enriching part of this experience abroad. It can be very difficult, but it made me realize how teachers are sometimes under appreciated in the USA. The job is rewarding and there is never a dull moment.
What is one piece of advice you would offer someone considering teaching abroad in South Korea?
Ruben: Don't be afraid. Moving abroad, just like many other changes in life, is full of worries and uncertainties. You will never be 100% ready for anything. You just have to take that step forward. Don't make excuses for yourself and let fear prevent you from experiencing such an extraordinary and fulfilling opportunity. The process to teach in South Korea can be long and tedious, at times discouraging. Like most things worthwhile it takes work and patience, but you will never regret it.
How has this experience impacted your future? (Personally, professionally, etc)
Ruben: This experience impacted my future in many ways. Professionally, it has given me additional real-world, working knowledge and a chance to learn about another culture in my pursuits of one day joining the Foreign Service of the USA. I realized in my time here that I want to go to graduate school and get a Master's in global affairs.
Teaching English is a complex job in which I learned about myself. I learned how to be more patient and flexible. Not every lesson is perfect sometimes there will be complete and utter failures. These failures taught me what to do differently and how to be a more effective communicator.